Archive for the 'Recipes' Category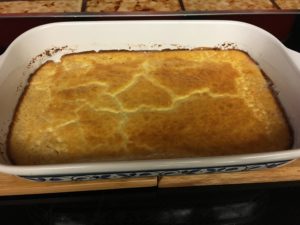 Easy Gluten Free Pan-Cakes
We've been making these for a few years now. So easy to make, you just blend the ingredients and cook in a pan in the oven. You can also use Greek Yogurt, instead of sour cream but I think the sour cream adds a nice tang. I got the picture at the wrong angle but when I made it today, to take a pic, it turned out with a heart in the middle. Love, Mom.
Ingredients
3 large organic pastured eggs
1/2 cup organic sour cream or organic Greek yogurt.
2 tbsp sweetener. Any type you prefer, I use swerve or stevia.
1 tsp baking powder
1/4 cup organic almond flour
2 tbsp organic butter
Instructions
Heat oven to 425 degrees.
Put all ingredients, except butter into a blender jar (I use my Vitamix) and blend on manual 3-4 for a few seconds until all the ingredients are completely incorporated into the batter.
When the oven is heated, put butter in a 9″ x 12″ cake pan and place with only the butter in oven.
Melt the butter for 3-5 minutes or until the butter is bubbling in the bottom of the pan. Remove from oven.
Pour the batter gently over the hot butter and return to oven.
Bake for 15 minutes, until pancake is golden and puffed.
After baking, cut the pancake into 4 and serve. Serves 2 at 2 pancakes each – Enjoy!
Fiery Ferments Cookbook review
I've been making basic ferments like sauerkraut and pickles for many years now but decided to branch out this year. I got this book for Christmas last year and finally got to put it to good use this summer.
I've made five recipes so far and they have all been delicious. All the recipes except one calls for taking out the seeds of the hot peppers and between that and the fermenting the heat level is perfect. The recipes are all listed by heat level too so you can choose how hot to make your ferments.
There are also recipes in the back of the book to give you some ideas of what to use the ferments in. And because they're fermented, most of the recipes will last up to a year in the fridge, although not sure if they'll last that long around here.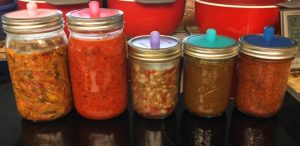 Pictured from left: Spicy Mango Onion ferment – Sri-rawcha – Caribbean salsa – Zhug and last is Adzhika.
The first recipe I made was for Zhug, which is a classic Yemeni chili paste. It's sort of like a spicy cilantro pesto and is delicious on roasted or steamed veggies. The recipe made a pint.
The second one was Adzhika, which is a Georgian Pepper relish. This is delicious on burgers. We mixed some with a bit of mayonnaise and it was the perfect burger topping. The recipe made a pint.
Third, I made the Caribbean Salsa. This recipe called for habaneros but as I didn't have any I substituted aji sugar rush peach peppers which I got from our local farmers market. They are not quite as hot but still have the fruity flavor and they worked perfectly. You can switch up which peppers you use and many recipes give you a number of different choices. This is a very spicy but yummy salsa.
Next, I made the Srirawcha. This is a raw, fermented version of Sriacha sauce. It's delicious and the recipe made a quart so we should have this for a while.
Last I made the Spicy Onion-Mango Ferment. This one reminds me of the spicy pickles you get at Indian restaurants. It has curry powder, and ginger – yum.  This one is also a quart sized recipe.
There are a number of other recipes I want to try too, like the Spicy Carrot and Lime Salad and the Jamaican Jerk Sauce, just to name two.
A great book and highly recommended.
Link to buy the book on Amazon here: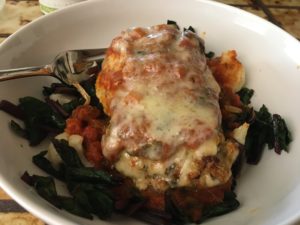 Easy Chicken Parmesan
I've made this a few times now. It's really easy and tasty too.
Ingredients:
2 pounds of organic boneless skinless chicken thighs
1 organic egg
1 cup grated organic Parmesan cheese
1 tablespoon of organic Italian seasoning (or just use any herbs you like to taste – basil, oregano, parsley, etc)
1 tsp organic minced garlic
1 cup organic pasta or tomato sauce
8 oz organic shredded mozzarella cheese
Instructions:
Preheat oven to 400° and line a baking sheet with parchment paper.
Mix herbs and Parmesan in one bowl and mix egg in another bowl.
Dip chicken in the egg and then in the cheese, coating both sides. Place on baking sheet.
Bake for 30 minutes, and then put sauce and cheese on top. Bake another 15-20 minutes until chicken is 160° and cooked through.
We serve over veggies but you could serve over pasta or rice too.
Enjoy!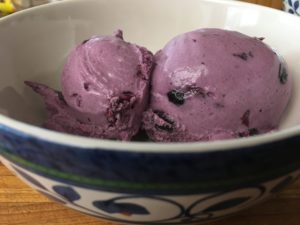 Blueberry Ice Cream
Blueberry season is coming soon and as I have a bag still in the freezer from last year, I decided to make ice cream. It was really good!
3 cups organic blueberries (mine were frozen)
3/4 cup swerve, erythritol or organic sugar
1/4 cup water
2 Tbls. Organic lemon juice
2 tbls Organic vodka
¼ tsp xanthan gum
(the vodka and xanthan gum are optional but keep the ice cream from freezing too hard)
2 cups heavy cream
In heavy 2 qt. saucepan heat blueberries, water and sugar to boiling. Stir for 5 minutes and remove from heat. Add lemon juice and vodka chill until cold (or overnight). Add cream and xanthan gum, whisk, and place in ice cream maker.
It was really easy. It's a rich and beautiful desert. Enjoy!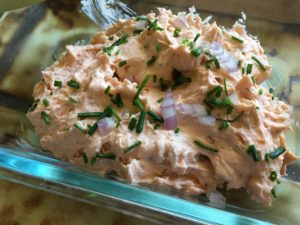 Smoked Salmon Spread
I was looking for something different to bring to our book club potluck and used this recipe. Some of the ingredients are from a few salmon roll recipes I have but I wanted to make a dip. It's easy and really delicious. I brought cut up celery and some gluten free crackers to serve on the side. It was a hit!
Ingredients:
12 oz. of organic cream cheese, softened
8 oz. of wild smoked salmon
¼ cup organic red onion (save another small bit of red onion for garnish)
2 tlbs. chopped organic chives (also save some for garnish)
Directions:
Put red onion and chives in your food processer with the S blade and process until finely chopped. Add the cream cheese and process until smooth. Then add the salmon and process until incorporated.
Put into a serving bowl and garnish with finely chopped chives and red onion. Refrigerate until ready to serve. I served it with crudité sized celery and gluten free crackers. Enjoy!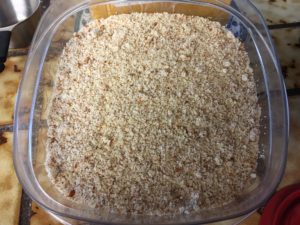 Homemade Soaked/Dried Almond Flour
I use quite a bit of almond flour as we're gluten free and as we try to use organic as much as possible, finding organic almond flour has been a bit of a challenge.
It's more available now then it was in years past, but it's expensive and it's not soaked, which we prefer to do with our nuts. This helps reduce the phytates.
I went in on a buy of organic almonds direct from a local farm with some friends and wish I had known sooner how easy it is to make your own.
Soaking/Drying the Almonds:
I soak/dehydrate and make flour from about 5 pounds of almonds at a time. That is approximately one full gallon zip lock bag. Of course you can do less but this amount will fill a 9-tray Excalibur dehydrator so you're using all the shelves.
For soaking I put four cups of almonds in a half gallon ball jar, add one tablespoon of Celtic or sea salt to each jar and fill with water. Give it all a stir and then cover the tops of the jars with a clean kitchen towel. I usually do this before breakfast.
Let soak for at least 8 hours and then pour the almonds in a colander and rinse with clean water. Once they're all drained and washed, place them in a single layer in your dehydrator and turn it onto 115 – 125° degrees.
I usually do this around dinner time and leave them overnight. Check in the morning and they are done when the almost are totally dry and slightly crispy.
I turn off the dehydrator and leave them to cool for an hour or so.
To make the flour:
You need a Vitamix or other high-speed blender.
Do just 1 cup of almonds at a time or this won't work..
Put one cup of almonds in your vitamix.
Put the lid on and put the tamper inside, just sitting on top of the almonds.
Turn the blender on full high for seven seconds.
That's it! Take that flour out and continue in batches until all your almonds are ground. I store mine in the freezer in a gallon zip lock bag. Enjoy!
If you want to mail order some great organic almonds, almond butter or walnuts, I recommend:  http://heronfoxfarm.com/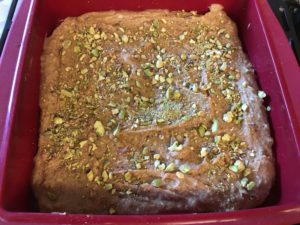 White Chocolate Coconut Almond Fat Bombs
I've been low carb/ gluten free for over six years now and I am recently trying to up my healthy fats. Fat bombs are a great way to do that and they're very satisfying as well. This is a mix of a few recipes I found and it's really good. Once they're solid and cut in pieces you can store them in the fridge or even in the freezer for when you really need a snack.
Ingredients
1/2 cup organic cocoa/cacao butter, finely chopped and melted
1 cup organic roasted almond butter
1 cup coconut butter (also called coconut manna – not oil)
1 cup organic coconut oil, firm*
1/2 cup organic full fat coconut milk
1/2 cup sweetener of choice – I use Swerve
1/4 cup organic ghee
1 tbsp organic vanilla extract
2 tsp organic chai spice (recipe below)
1/4 tsp celtic sea salt
1/4 cup organic pistachios, chopped (or any other nut for topping)
Instructions
Use a 9" silicone pan or grease and line a 9" square baking pan with parchment paper, leaving a little bit hanging on either side for easy unmolding. Set aside.
Melt the cacao butter in a small saucepan set over low heat or in the microwave, stirring. Set aside.
Chop the nuts and set aside.
Add all the ingredients, except for cocoa/cacao butter and shelled pistachios, to a large mixing bowl. Mix with a stand mixer or hand mixer, starting on low speed and progressively moving to high until all the ingredients are well combined.
Pour the melted cocoa/cacao butter right into the almond mixture and resume mixing on low speed until everything is mixed together.
Transfer to prepared pan, spread as evenly as possible and sprinkle with chopped pistachios.
Refrigerate until completely set, at least 4 hours but preferably overnight.
Cut into small squares and enjoy! Store in the fridge or freezer.
I didn't have Chai spice so I made my own, using this recipe.
Homemade Chai Spice
Ingredients
3 tsp organic ground ginger
2 tsp organic ground cinnamon
1 tsp organic ground cloves
1 tsp organic ground nutmeg
1 tsp organic ground cardamom
Instructions
Mix all ingredients together in a small bowl and store in a small jar or spice jar.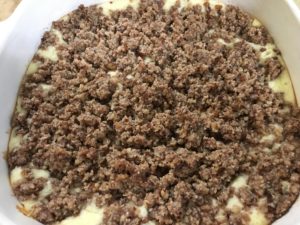 Cheesecake Crumb Bars
This is adapted from a recipe from Carolyn Ketchum. She has a great blog, All Day I dream about Food and a new cookbook coming out, link below. I've switched up the recipe a bit and it's easy to make and delicious as well.
Ingredients:
Crumb crust:
1 ¼ cups organic Almond Flour
½ pecans chopped
½ cup Non-GMO Erythritol, Swerve or Organic Sugar
1 tsp organic cinnamon
¼ tsp Celtic or Sea Salt
½ organic butter, melted
Filling:
12 oz organic Cream Cheese, Softened
¼ cup organic sour cream
2 large eggs, pastured and organic
½ cup Non-GMO Erythritol, Swerve or Organic Sugar
½ tsp organic vanilla extract (we have a great recipe on site)
Crust/Topping:
In a medium bowl, mix together almond flour, pecans, ½ cup sweetener, cinnamon and salt. Then mix in melted butter until it looks like course crumbs.
Press half of the crumbs into a 8×8 greased pan. Bake at 325° degrees F for 10 minutes. Take out of the oven (leave the oven on for the rest)
Filling:
In a food processer or mixer (I use my food processor with the S blade) process cream cheese until smooth. Add sour cream and process again. Then add eggs, process again. Finally add ½ cup sweetener of choice and vanilla extract. Process until everything is combined.
Pour filling over crumb crush and sprinkle the remaining crumb mixture over the top. Bake at 325° degrees for 35-40 minutes until filling is set and the top is lightly browned. Cool and then refrigerate until cooled completely. Enjoy!
Click the image below for Carolyn's Book: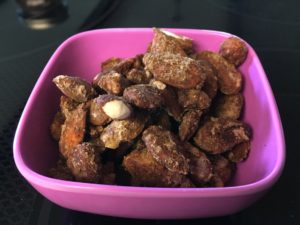 Sweet and Spicy Nuts
I started making these around the holidays. I tried a number of recipes and tweaked them a bit to come up with this. I store them in canning jars, on the counter and they are usually gone within a week. Everyone loves them.
Ingredients:
1 tsp. organic cinnamon
1 tsp. organic cardamom
1 tsp. organic allspice
1 tsp. Celtic or sea salt
½ tsp organic curry powder
1/8 tsp . organic cayenne pepper
1/3 cup swerve (or erythritol or organic sugar)
2 organic pastured egg whites
4 cups organic mixed nuts (I've been using a mix of almonds, walnuts and pecans)
Directions:
Preheat oven to 250°
In a large bowl, mix all the nuts and spices together.
In another bowl, whisk the egg whites until frothy and foamy. I use a stainless steel bowl.
Pour the egg whites over the nut mixture and mix until combined.
Spread the nuts out on a baking sheet.
Bake 30 minutes – then removed from oven and mix it all up again – then put back in the oven for another 30 minutes – 1 hour total baking time.
Cool and store in jars – enjoy!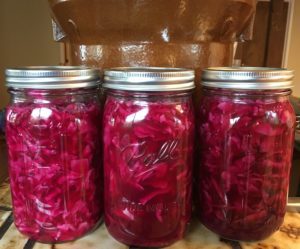 Spicy Hot Sauerkraut
We've been making Sauerkraut for a few years now and this one is a new favorite. Lots of garlic and jalapeno peppers, almost like a kimchi. Goes great with everything!
Ingredients
3 – 4 pounds organic red cabbage, (shredded)
3 – 4 cloves organic garlic, (minced)
3 – 4 medium organic jalapeno peppers, (sliced thin)
1 – 2 tablespoons sea salt
Instructions
Put all ingredients into a large bowl and mix together by hand. Wear gloves for both slicing the peppers and mixing because they're hot. You can kneed or press it for a bit to get the juices out of the cabbage as the salt sinks in, but I usually just make extra brine to pour on top.
Put in any type of fermentation crock you like. We have one like the one linked below. Pack your veggies in crock and put the stones on top. I usually make extra brine if needed so that the brine goes above the stones.
Start tasting after a week until it's to your liking. I take ours out after a week to ten days and put it in mason jars in the fridge. Yummy and so easy to make!
Save