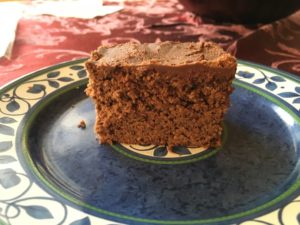 Gluten Free Chocolate Cake with Chocolate Frosting
I was looking for a really good chocolate cake recipe to make for my sons birthday. I tried and lot and finally came upon this one, which I changed up a bit. Added a chocolate buttercream frosting and it was SO good. Got raves all around.
For the cake:
8 organic pastured eggs
1 cup swerve, erythritol, or organic sugar
1 1/4 cups organic almond milk or coconut milk for dairy free
2 cups organic almond flour (I make my own, it's easy)
3/4 cup organic coconut flour, sifted
4 teaspoons baking powder
1 teaspoon baking soda
7 Tb. organic cocoa powder
1 stick unsalted organic butter, melted or coconut oil, melted for dairy free
2 tsp. vanilla
Instructions for the Cake:
Preheat oven to 350°
Grease a 9″x13″ baking pan.
Dough may be mixed with a spoon, with a hand-held mixer, or a standing mixer. You'll get a smoother batter using a mixer, although I've made it both ways.
Beat eggs, in a bowl large enough to hold all of the ingredients. Add sweetener and milk and combine. Add all of the other ingredients and combine well.
Pour batter into pan, it's a fairly stiff dough so I usually smooth the top.
Bake at 350° for about 30-40 minutes. Cook until cake is just set.
Do not overbake. Slightly underbaking is better than overbaking.
Oven temperatures and cooking times vary. The best way to test for doneness is by lightly touching the center of the cake. The cake should feel just set.
Let cool completely before frosting.
Chocolate Buttercream Frosting
Ingredients:
1/2 cup (1 stick) organic butter, softened, OR 7 tablespoons non-hydrogenated shortening
1/4 cup confectioners swerve, erythritol or powdered organic sugar
5 tablespoons organic unsweetened cocoa powder
2 tablespoons half and half OR coconut milk
1 teaspoon pure vanilla extract
Pinch of sea salt
Optional addition for a glossy finish:
1 fresh organic egg yolk
Directions:
Cream the butter in a small bowl until fluffy. I use a mixer with the regular paddle.
Stir sweetener into butter with a spatula, then beat until smooth.
Slowly blend in the cocoa powder, vanilla, and sea salt.
Beat in the half and half and egg yolk, if using.
Then frost your cake and enjoy!
Save