Archive for October, 2016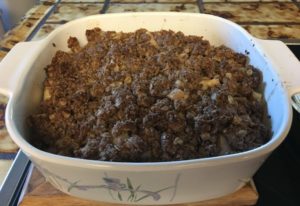 Pear Apple Crumble – gluten free
We got 20 pounds of local, organic apples and pears and I wanted to use some for making desserts for the family. Found a number of recipes I played around with until I came up with this. It's delicious and was a big hit with everyone.
Ingredients:
Filling:
2 large organic pears – I had bosc, so I peeled them and cut into little chunks
2 large organic apples – left the skin on and just sliced to match the size of the pears.
Organic lemon juice – squeezed half of a lemon
2 Tablespoons Swerve, or erythritol or organic sugar
Topping:
1 cup organic almond flour
¼ cup organic gluten free oats
1 teaspoon cinnamon
¼ cup organic walnuts, chopped
¼ cup Swerve or erythritol or organic sugar
4 Tablespoons organic butter, melted
Pinch Celtic sea salt
Directions:
Preheat oven to 350 degrees F
I used a 8×8 casserole with a glass lid.
Put the chopped fruit in the casserole and squeeze lemon juice over the fruit and sprinkle sweetener on top – mix it up with a spoon.
For the topping, mix all the dry ingredients, then pour the melted butter on them and mix until they're all mixed up and make a crumbly topping. Crumble the topping over the fruit as evenly as you can.
350° oven for 30 minutes until lightly browned on top – Then I put the lid on and cooked for 20 minutes longer to make sure the fruit is nice and soft. 50 minute total cooking time. Cool and enjoy with some cream poured on top, or a bit of whipped cream or ice cream. Yum!
Save
Save