Archive for September, 2018
Fiery Ferments Cookbook review
I've been making basic ferments like sauerkraut and pickles for many years now but decided to branch out this year. I got this book for Christmas last year and finally got to put it to good use this summer.
I've made five recipes so far and they have all been delicious. All the recipes except one calls for taking out the seeds of the hot peppers and between that and the fermenting the heat level is perfect. The recipes are all listed by heat level too so you can choose how hot to make your ferments.
There are also recipes in the back of the book to give you some ideas of what to use the ferments in. And because they're fermented, most of the recipes will last up to a year in the fridge, although not sure if they'll last that long around here.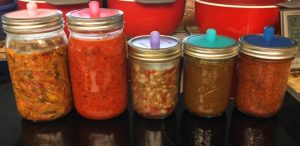 Pictured from left: Spicy Mango Onion ferment – Sri-rawcha – Caribbean salsa – Zhug and last is Adzhika.