Archive for January, 2014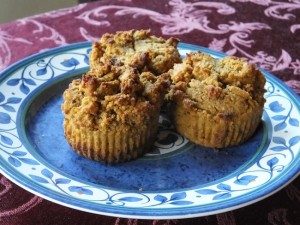 Pumpkin Muffins – Gluten Free
I took a break from using pumpkin in our baking after Thanksgiving as I baked a lot of pies. I was looking for a nice muffin to make and adapted this recipe.  You could use Butternut Squash as well. They're delicious and are even better the next day. You can freeze some for later, although they don't last that long around here!
Makes 24 Muffins
Ingredients
Paper liners or oil or butter for greasing muffin tins
8 organic, pastured eggs
1 15 oz. can organic pumpkin puree (not pumpkin pie mix)
1 stick organic butter, melted and cooled or 1/2 cup organic coconut oil
¾  cup organic coconut flour
2 cups almond flour or meal, preferably soaked organic almonds and home ground
4 teaspoons baking powder
2 teaspoons baking soda
2 teaspoons organic cinnamon
2 teaspoons organic pumpkin pie spice
1 – 1 1/4 cups organic sugar, or stevia or non-GMO erythritol equivalent
2 teaspoons organic vanilla extract
Instructions
Put 24 liners in muffin tins or grease with butter or oil.
Preheat oven to 350°.
Batter may be mixed by hand, with an electric mixer, or a standing mixer.
Put eggs in a large bowl and beat. Add pumpkin and blend in.
Add all other ingredients and mix well.
Taste for sweetness and add more sweetener if necessary.
Divide batter evenly between 24 muffin cups. Batter should come just about to the top of the muffin tin but under
the top of the liner.
Bake for 20-25 minutes or until muffins feel a little firm to the touch and a toothpick inserted in the center comes out clean.  Muffins may be cooled and frozen in a plastic bag for about a month.  Enjoy!
Save