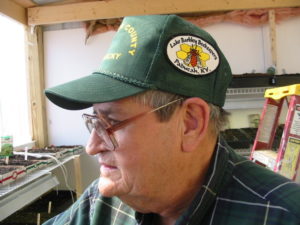 One thing we've done over years, as part of adding healthy nourishing food to our diet is to have a garden.  It's been a wonderful thing to share with my kids and we've grown everything from tomatoes to pumpkins, sweet peas to cooking herbs.  There is nothing more delicious then eating a fresh picked tomato.
I've been a member of a wonderful Yahoo group for the past few years called Organic Homesteading and Gardening.  It was started in 2002 by Jon and now has over 7000 members.  If you are looking to learn about anything related to homesteading or gardening, one or more of the member of the group will know the answer. And Jon, who started the group has a wealth of knowledge that he always kindly shares with the group.  For me personally, I learned how to make my own pasta, brew kombucha tea and many other tips that have helped me to have a more prosperous garden and become more self-sufficient. There's so much more I am learning everyday, thanks to Jon and OHG.
Jon kindly agreed to this interview. Thank you Jon!
When and why did you start the Organic Homesteading & Gardening Group?