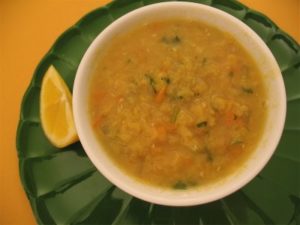 This is one of our favorite recipes. The stock can be homemade or store bought. Saffron can be expensive but you only use a pinch. If you have a Trader Joe's near you they have it at a great price.
Indian Lentil Stew (or Soup)
I found this recipe a few years ago in a vegetarian soup cookbook and we changed it a bit to make it our own. What I love about this recipe, is that you can make it with a little less liquid and have a wonderful rice main or side dish. Or, you can add a little more broth and have a wonderful soup.
Serve it with a warm crusty bread or some Naan (Indian flat bread) and enjoy!
1 tbsp. organic olive oil
1 cup finely chopped organic onion
1 tsp. saffron threads, crushed
1 tbsp. hot water
2 tsp. curry powder
1 tsp. ground cumin
2 tsp. minced fresh rosemary, or 1 tsp. dried rosemary, crushed
1 tsp. fennel seeds
6 cups organic vegetable stock, heated
One 15-oz. can organic garbanzo beans, drained and rinsed
3/4 cup dried organic red lentils
3/4 cup organic brown basmati rice.
1 organic tomato, cut into 1/2-inch dice
1/3 cup coarsely chopped fresh organic cilantro, plus sprigs of fresh cilantro for garnish
Salt and freshly ground pepper to taste
Heat the oil in a Dutch oven over medium heat. Add the onion; cook, stirring occasionally, until translucent, about 5 minutes.
Meanwhile, mix the saffron with the hot water; set aside.
Add the curry powder, cumin, rosemary, and fennel seeds to the Dutch oven; stir for about 30 seconds. Stir in the saffron mixture and the vegetable stock (If you don't have homemade (the best!) you can use pre-packaged vegetable stock or six cups of a good vegetarian or chicken powdered broth) beans, lentils, and rice. Increase the heat to high and bring to a boil. Reduce the heat; cover and simmer, stirring occasionally, until the lentils and rice are tender, about 45 minutes to an hour. Stir in the tomato and chopped cilantro. Season to taste.
Garnish with sprigs of cilantro.
Read more wonderful, Pennywise Platter posts here:  http://www.thenourishinggourmet.com/2009/09/pennywise-platter-thursday-924.html
Save