Archive for November, 2013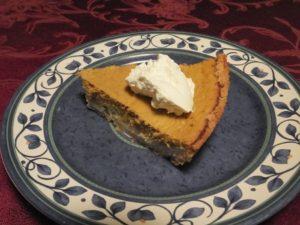 Our Favorite Pumpkin Pie – Gluten & Sugar Free
I've been making this pie for many years. Recently updated it to gluten free because I've missed having it the last few years!  It's still great!
Every fall we make pumpkin pies from fresh pumpkin. This year I grew sugar pie pumpkins in my garden. We roast the pumpkin – cut in half, take out the seeds and put face down on a baking sheet – bake at 350º until fork tender.
Once they cool, scoop out the flesh and puree it to use in pies and other baking. This recipe also works great with canned pumpkin.