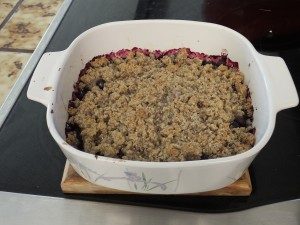 Gluten Free Blueberry Cobbler
We have a local blueberry farm that has really good prices so I stocked up. I was looking for a cobbler recipe and this one is amazing. Only take a few minutes to prepare and is delicious.
Ingredients:
3 cups organic blueberries
1 tablespoon organic lemon juice
1/4 teaspoon xanthan gum – optional but it'll help thicken
1 cup organic almond flour
2 tablespoons organic coconut flour
½ cup sweetener of choice, I used non-GMO erythritol.
1 pastured organic egg, beaten
6 tablespoons organic butter, melted
Instructions:
Pour berries into greased pan. I've use a 9 inch square and also have used a pie pan
Sprinkle with lemon juice and xanthan gum. I also pull out a tablespoon of the sweetener from the topping and sprinkle it directly over the berries.
Stir almond flour, coconut flour, sweetener and egg until mixture resembles coarse meal.
Sprinkle dry mixture over berries.
Drizzle melted butter over topping.
Bake at 350 degrees for 25-30 minutes or until top is browned.
For an extra special treat, serve with homemade whipped cream or vanilla ice cream. Enjoy!
Save