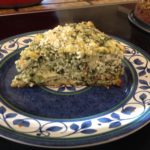 Spinach Bacon Quiche
Our chickens have been laying eggs like crazy this spring so I was looking for some good recipes. I have to say, this is the best quiche recipe I've ever had and the family agrees. This is my version from the excellent cookbook, Low-Carbing Among Friends, Vol 1 – link below. It's full of great low carb, gluten free and Keto recipes and I use it all the time.
Almond Parmesan Crust:
2/3 cup ground almonds or almond meal, preferably organic
1/3 cup grated organic Parmesan cheese 2 tbsp organic butter, melted
1 organic pastured egg
Filling:
6 organic bacon slices
1 small organic onion, finely chopped
1, 10 oz package frozen organic spinach
8 oz organic cream cheese, softened
1 cup organic sour cream
5 organic, pastured eggs, beaten
4 oz organic feta cheese
1/4 cup organic grated Parmesan cheese
Directions:
Almond Parmesan Crust: In medium bowl, combine ground almonds, Parmesan cheese, melted butter and egg. Using plastic wrap, press crust into 9-inch springform pan or 10" deep dish pie pan. Bake in 350°F (180°C) oven 10 minutes.
Filling: In large skillet, cook bacon until it gets somewhat crisp. Set aside to drain on paper towels. In bacon fat, cook onions over medium heat until soft.
Squeeze liquid out of spinach and add to onions along with bacon.
In food processor or in bowl with electric mixer, process cream cheese. Add sour cream and process. Add eggs one at a time, while processing, until smooth. Stir in feta cheese and Parmesan cheese and process again. Pour mixture over vegetables and bacon; stir to combine well. Pour over prepared crust.
Bake in 350°F oven 50 minutes, or until set. Allow to stand 10 minutes before cutting. Sprinkle with extra Parmesan cheese, if desired. Enjoy!
Save