Archive for December, 2015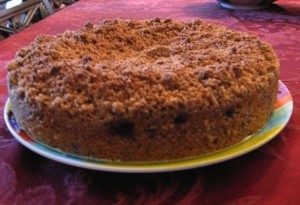 Blueberry Coffee Cake – Gluten Free
I've been trying to make a coffee cake that was close to Ina Garten's recipe that I put up a few years ago, but that was gluten free. This one comes very close! If you're blueberries are frozen – let them warm up or it will take longer to cook.
Ingredients
Topping
1 cup organic almond flour
1 teaspoon organic cinnamon
1/2 cup Non-GMO Erythritol or Swerve or organic sugar
1/8 tsp Celtic Sea Salt
4 tablespoons organic or pastured butter, melted
Cake
2 cups organic almond flour
1 t. baking powder
1/2 teaspoon baking soda
1/4 teaspoon organic cinnamon
½ Celtic sea salt teaspoon salt
3/4 cup
1/2 cup organic sour cream
2 Tablespoons organic or pastured butter, melted
2 teaspoons organic vanilla extract
2 organic pastured eggs
1 cup organic blueberries
Instructions:
Preheat oven to 350°. Butter a 9-inch cake pan.
Topping:
Mix all topping ingredients until crumbly. Set aside.
Cake layer:
Mix wet and dry ingredients separately – I use a large measuring cup for the wet ingredients and stir together until well blended. Once well mixed add the blueberries. If they're frozen, let me defrost or your cake will take longer to bake (learned that the hard way!)
Spread the cake batter in the pan, and then sprinkle the topping over the top.
Bake for 20-30 minutes or until toothpick inserted into center comes out clean. Cool and slice. Enjoy!
Save