Archive for January, 2013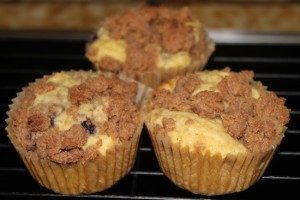 Blueberry Streusel Muffins – GF
These really remind me of the blueberry streusel cake I used to make based on Ina Garten's recipe. My sprouted flour version (not GF) is here:  http://momsforsafefood.net/2010/05/24/sprouted-flour-blueberry-crumb-cake/
I'm going to try these as a cake next, baking 40-50 minutes, although I like the muffins cause I only eat one at a time. J  These are based on muffins by Maria Emmerich, from one of my favorite cookbooks, Low Carbing Among Friends, Volume 2 – link below.
Muffin Ingredients: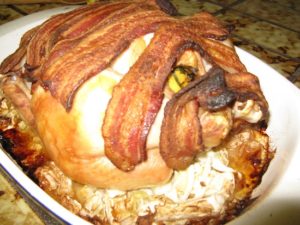 Whole Roasted Chicken with Bacon
I saw this made on a cooking show and it looked delicious. I found a number of recipes online and blended them together to make this one.  It looks beautiful when it comes out, would be lovely served to company and makes great leftovers as well.
Serves 4-6
Read the rest of this entry »