Archive for September, 2014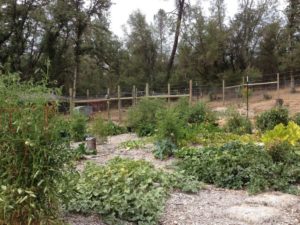 Why we have a Wood Chip Garden
I've been gardening for a long time. I really love working outside with the plants and getting delicious homegrown produce and herbs is a big bonus. I've gardened in so many different ways from raised beds to large pots when I was renting and couldn't dig up the lawn. A few years ago I heard about this movie called Back to Eden. It's about Paul Gautschi who's an organic gardener from Washington State. He lives in an area that has very dry summers and came up with this great mulching system to keep the plants moist.
There have been many books about mulch and how good it is for your garden but most of the one's I've seen, like Ruth Stouts books use straw for mulch. We live in Northern California where we have very dry summers so when we moved here a few years ago and I was getting ready to start a new garden from scratch, I knew I wanted to try Paul's system.
We needed to have a number of trees cut down to make a spot for our garden as our property is heavily wooded so part of what we looked for was someone with a really big chipper. We found a great company and they chipped most of the trees that came down in the garden area. The rest we chopped into firewood. We did a layer of cardboard to cover the weeds, then a layer of cow manure, then a layer of compost then at least six inches of wood chips.