Archive for September, 2012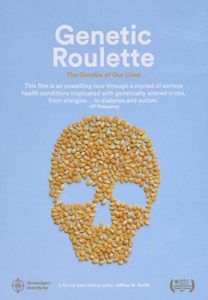 Genetic Roulette Movie Review  –  A Must See Documentary
Jeffrey Smith just released an incredible new documentary called Genetic Roulette: The Gamble of Our Lives.  It's narrated by Lisa Oz (daughter of Dr. Oz) and features interviews with physicians, scientists, farmers, dieticians, chefs and educators all discussing the problems with genetically engineered foods.
Americans get sick more often then Europeans and people in other industrial countries and we're getting sicker.  Since the mid 1990's when Genetically Modified Organisms (Genetically Engineered Foods) when our food supply was taken over, without our knowledge or our consent.  The number of Americans suffering at least three chronic illnesses nearly doubled.  Why is this taking place?
We've had an epidemic increase in cancer, obesity, allergies, autism, diabetes, asthma, and intestinal disorders.  These are the same conditions that animals eating genetically engineered foods develop in the lab.  It seems like we, and our children, are the guinea pigs of the biotech industry. And contrary to what 'industry' states, there are NO long-term safety studies.