Archive for the 'Sustainable Farming' Category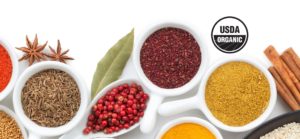 Why you want to use only organic herbs and spices
I've been using organic herbs and spices since we primarily started eating organically. It's been a huge health boon to our entire family.
Why is it so important to use organic herbs and spices?
Spicely Organics says,
"#1: No Pesticides
At the most basic level, spices and herbs come from plants. Spices, which are dried plant parts (bark, roots, fruits, etc.), and herbs, fresh or dried plant leaves, are highly concentrated and super-rich sources of healthy plant compounds. However, when potent toxic pesticides enter the mix, it becomes questionable as to whether your spices are more healthful or harmful.
#2: No Irradiation or Harmful Chemicals
All foodstuffs must undergo sanitation steps that eliminate deadly pathogens. Many conventional herbs and spices often undergo sterilization via irradiation, which preserves the food, but also creates carcinogenic by-products. An alternative technique commonly used requires the use of ethylene oxide, a toxic chemical that has been associated with central nervous system effects and cancer. Both processes are banned in several other countries.
Unlike the aforementioned methods, the third way to clean spices, via steam sterilization, is compliant with organic standards. Saturated steam, under high pressure, kills microorganisms without damaging the vital properties of the plant, like enzymes, polyphenols and antioxidants – and without the use of any harmful chemicals.
#3: No Fillers, GMOs or Chemical Additives
Finally, conventional spices often contain fillers, preservatives and artificial flavors to enhance flavor that may have been lost in the manufacturing process. You won't have to worry about these questionable additives, nor genetic modification, with organic product.
Overall, I encourage you to understand as much about all of your food as possible, and, yes, that includes your turmeric and tarragon. Fill your cabinets with spices that promote health, rather than detract from it, and feel confident in everything you put in your body."
The pesticides and irradiation are of particular concern to me.
I was recently introduced to Penzeys. They have some wonderful herb and spice blends and the company does a lot of community service. There are so many blends that I'd love to use but they're not organic.
If you use organic herbs and spices and especially if you like Penzeys brand, take a minute and write to their owner, Bill and copy their help desk and ask them to please make their great blends in organic versions – if enough of us ask, hopefully they'll listen and give us their wonderful blends in organic versions.
Here are some places I currently get my organic herbs and spices:
https://www.starwest-botanicals.com/
https://www.mountainroseherbs.com/
Mom
I've been watching the great YouTube videos from Justin Rhodes and family.  They are traveling around the country visiting farms and gardens all over the country.  You will learn a lot and be entertained as well.  Enjoy!
Great video about farmers who are doing it right. Revolutions start from the bottom!
Unbroken Ground from Patagonia Provisions on Vimeo.
Our food choices are deeply connected to climate change. Food will play a critical role in the next frontier of our efforts to solve the environmental crisis.
Join us to celebrate the release of Unbroken Ground, a compelling new film by Chris Malloy that explores four areas of agriculture that aim to change our relationship to the land and oceans. Following the 25 minute film, hear from a panel of speakers and taste Patagonia Provisions' organic food sourced from our partners featured in the film.
You can see this film subtitled in Japanese, Korean or Spanish – simply click on the 'CC' button in the video player controls above.
Wonderful interview with Wendell Berry. He's talking about sustainable farming and what we can do in the world. Very inspiring!
This is a very important video, to watch and pass along. Do we want to lose all rights to choose the food that we eat?  Mom
Since the early 1990's there have been genetically modified organisms in our food. GMOs – short for genetically modified organisms – are man-made organism created in a laboratory and patented by a corporation or the USDA. GMOs are created by a process called genetic engineering.  Many people have been asking for required labeling of GMO food, as already exists in thirty other countries. And there are a growing number of countries, like Ireland, Japan and Egypt that have completely banned the cultivation of GMO crops.
GMOs are not created the same way as traditional cross-breeding. Traditional cross-breeding is creating natural hybrids, such as crossing two varieties of roses, different types of squashes, or different breeds of dogs or cats. GMOs are made by actually splicing a gene from a virus or another species into the GMO seed.  Some examples are, fish genes being spliced into tomatoes, human genes in corn, mouse genes in potatoes.
Since the 1990's, people have been asking for GMO food to be labeled.  We've been asking the USDA, the FDA, our legislators and the courts. They are not listening, and it's time for us to speak for ourselves.
If you live in California, there is a Ballot Initiative in the works for the 2012 election. This proposition would require labeling on all GMO foods in the state of California. The website is http://www.LabelGMOs.org and there's a Facebook page as well, Label GMOs.
Why avoid GMO foods and why do we want them labeled? Scientists warn that GMO foods may set off allergies, increase cancer risks, produce antibiotic-resistant pathogens, damage our food quality and produce dangerous toxins in our environment. GMO fed animals had higher death rates and organ damage in scientific studies.
GMOs will increase the risk of antibiotic resistant strains of bacteria due to the use of antibiotic resistant genes in GM food. The British Medical Association cited this as one reason why they called for a global moratorium or ban on GM foods.
GMO crops cross-pollinate: Canadian organic farmers can no longer grow canola and soybean crops organically. The seed stocks of those two crops are now totally contaminated by GMOs, which cross-pollinate into other market garden crops from the brassica family, such as kale, cabbage and broccoli.   The recent deregulation of GMO alfalfa is particularly concerning as Alfalfa is a high cross pollinator, which means it can cross pollinate – and contaminate – many other plants.
It will be a few months before we can volunteer to gather signatures but there are many ways to get involved now.  If you would like to be part of the Label GMO campaign you can visit the website, spread the word, volunteer to gather signature in the fall and/or donate.  You will be coming together with other parents, farmers, doctors, scientists and food activists who are demanding our right to know what's in our food.
This is an exciting time.
It's time to for us to join together and legislate labeling of all GMO food.
We have a right to know!
Read more, great Monday Mania posts here: http://www.thehealthyhomeeconomist.com/2011/07/monday-mania-7252011/

Read more great, Real Food Wednesday posts here: http://kellythekitchenkop.com/2011/07/real-food-wednesday-7272011.html
Read more, great Simple Lives Thursday posts here: http://gnowfglins.com/2011/07/28/simple-lives-thursday-54/
Read more, great Pennywise Platter Thursday posts here: http://www.thenourishinggourmet.com/2011/07/pennywise-platter-thursday-728.html
Read more, great Fight Back Friday posts here: http://www.foodrenegade.com/fight-back-friday-july-29th/
Farmageddon – A MUST See Movie
We saw Farmageddon – The Unseen War on American Family Farms last week.  It's produced and directed by Kristin Canty, a mom of four, who couldn't understand why the healthy food she wanted to buy for her family, was so hard to find.
Kristin said, about why she made this film, "I decided I needed to tell this story. My goal was to let these honest farmers using centuries old farming practices tell their side of the stories. So, I set out to make a film. Farmageddon is in no way meant to convince anyone to drink raw milk, or eat grass fed beef, but rather an argument to allow those that want to make those choices to do so. It is simply about freedom of food choice. The government needs to stop harassing small farmers, private food buying clubs and co- ops without food freedom…. we are not free."
From the movie's website, "Americans' right to access fresh, healthy foods of their choice is under attack. Farmageddon tells the story of small, family farms that were providing safe, healthy foods to their communities and were forced to stop, sometimes through violent action, by agents of misguided government bureaucracies, and seeks to figure out why."
"Farmageddon highlights the urgency of food freedom, encouraging farmers and consumers alike to take action to preserve individuals' rights to access food of their choice and farmers' rights to produce these foods safely and free from unreasonably burdensome regulations. The film serves to put policymakers and regulators on notice that there is a growing movement of people aware that their freedom to choose the foods they want is in danger, a movement that is taking action with its dollars and its voting power to protect and preserve the dwindling number of family farms that are struggling to survive."
I knew the basic premise of the movie before we went to see it as I had seen the trailer and have been impatiently waiting for it to come to a theater near me. It's such a travesty of justice that our small farmers are under fire, most times with no just cause. There are cases of food and animals being seized, hundreds of thousands of dollars of livestock, and equipment seized, for no reason.  No complaints had been filed, no one had gotten sick. There have been raids of private food clubs, guns drawn on young children. It's not just isolated instanced. Google "farmers raided" and you will see too many examples. There are more examples on my post of last year, http://momsforsafefood.net/2010/10/25/what-is-the-matter-with-the-fda/
This is not the American Way!
I thought Farmageddon was brilliantly directed. Where it could have just been a very depressing story, there's hope here too.  It's about the growing real food movement and how more and more people are looking to buy their food directly from their local farmers.
It's time for all of us to stand up for food freedom. For the freedom to choose real food for our families and for the choice to not have our food contaminated by GMOs. I am starting to wonder if it's going to take acts of civil disobedience – nonviolent resistance – and becoming vocal to the point where the FDA, USDA and our government understand that we are not going to put up with our small farmers being harassed and raided for good no reason.  It's time to stand up for ourselved and our farmers!
This is a film that everyone should see. It's only in a few theaters now, but if you are near anywhere there is a showing, it's an incredible film.  Below is the link to the website. There you can watch the trailer and see or arrange a screening.  Highly recommended!
Read more, great Fight Back Friday posts here: http://www.foodrenegade.com/fight-back-friday-july-8th/
Read more, great Pennywise Platter Thursday posts here: http://www.thenourishinggourmet.com/2011/07/pennywise-platter-thursday-77.html
Read more, great Simple Lives Thursday posts here: http://gnowfglins.com/2011/07/07/simple-lives-thursday-51/
Read more, great Real Food Wednesday posts here: http://kellythekitchenkop.com/2011/07/real-food-wednesday-762011.html
Read more, great Monday Mania posts here: http://www.thehealthyhomeeconomist.com/2011/07/monday-mania-742011/
Joel Salatin, America's farming heavyweight
Joel Salatin.
by Staff Writers
Swoope, Virginia (AFP) Oct 16, 2009
A diehard activist for some, a pioneer for others, Joel Salatin is fighting against America's genetically-modified foods and for local subsistence farming.
Leading his crusade from the heart of the Shenandoah Valley in the foothills of the Appalachian Mountains, this anti-globalization messenger who dubs himself a "Christian Libertarian environmentalist capitalist lunatic farmer" has become the face of healthy eating and agriculture.
"The desire from consumers to eat this kind of food is exploding," Salatin said at his 500-acre (200-hectare) farm in Swoope, Virginia.
Small farmers' markets — still scarce just a few years ago — are now in full swing in the United States.
The online Farmers' Market Directory lists 5,274 markets across the country, a 13 percent rise from 4,685 a year ago. The number has grown by nearly 4,000 nationwide since 1994.
"Nobody trusts the industrial food system to give them good food," said Salatin, surrounded by the many cows, pigs, turkeys, rabbits and chickens he raises in methods that remain unconventional in the highly-industrialized US agricultural sector.
"The distrust is very real."
An iconoclast who has authored several books with titles like "Everything I Want to Do is Illegal," Salatin makes regular media appearances and now spends a third of his time at conferences.
But farming is still a family affair built over three generations on the rocky terrain of his "Polyface Farm".
Chickens
and turkeys run free here, transported in a chicken coop built on wheels to a different pasture every three days.
The 1,000 cows and 700 pigs raised for meat each year change pastures every week.
Salatin, 53, hails his "healing farming" method, where each animal plays an environmental role.
"The cows shorten the grass and the chicken eat the fly larvae and sanitize the pastures. This is a symbiotic relation," he explained.
This natural approach to farming is just as profitable as industrial farming, Salatin insists, because he saves where big chicken and beef producers are forced to invest in structures, drugs and labor.
His customers are 400 families, about 50 restaurants and a dozen shops in the area. He also charges 800 dollars for a two-hour tour of his farm.
"Yes, the prices are higher, but it's because all of the costs are in the price of this chicken and you are paying it here at the cash register, not paying it in sickness and disease and pollution and stink," he explained.
But his unorthodox methods leave some thinking Salatin is a "terrorist", he claimed, "because the new word is science-based agriculture and this is not science-based."
Salatin's products are not certified as organic — a booming food sector in the United States, now accounting for 3.5 percent of all food sales — because he refuses to do the necessary inspections and paperwork.
"We are beyond organic," exclaimed Salatin, observing that government-certified organic meat products do not necessarily come from chicken and cows on pasture.
"Organic doesn't mean what people think it means."
From: http://www.seeddaily.com/reports/Joel_Salatin_Americas_farming_heavyweight_999.html
Read more, great Fight Back Friday posts here:  http://www.foodrenegade.com/fight-back-friday-october-23rd
Here's a link to one of Joel Salatin's great book,
I was so happy to stumble across this article a few days ago. I make home made kefir and the wonderful grains I use, I got from Edwin. I didn't know the history of his farm. What a great inspiration! –   Mom
"We Can Feed the World," Says Ed Shank, As He Transitions from Feedlot to Organic Raw Dairy Operation
The empty confinement area at The Family Cow farm. It's almost eerily quiet in the huge holding area that was once the center of Edwin Shank's confinement dairy in central Pennsylvania. In the adjoining photo, you can see the empty structure, where hundreds of cows were once kept 24/7.
The action is now several hundred yards away, out in the pasture, where 275 cows grazed on Saturday afternoon, and the main sound was that of orchard grass, blue grass, rye grass, and clover being ripped and chomped by the hungry animals. The other sound was the uneven melody of about 1,000 broiler chickens and laying hens grazing in an adjoining pasture.
It's been nearly four years since Ed Shank made the decision to end years of running a confinement operation as the fourth generation owner of The Family Cow farm, and transitioned to an organic system, modeled heavily on Joel Salatin's Polyface Farm, and Mark McAfee's Organic Pastures Dairy Co. Since it takes three years to transition from a conventional to an organic system in any event, it's only been in the last year that The Family Cow farm has been able to sell its raw milk, eggs, beef, and chicken as organic products.
In the process of making the transition, Edwin Shank is seeking to disprove the arguments of both agriculture experts and some raw milk advocates that conventional dairies shouldn't even attempt to become sellers of raw milk, not to mention grass-fed beef and pastured chicken. "The dairy inspectors always told us, 'If you do raw milk, you'll be okay, but your customers won't. Of course, that hasn't happened."
I've long argued that state ag departments, which are supposed to be in the business of promoting agriculture and farm viability, should help dairies out of the downward-spiraling conventional dairy business, and educate farmers who are interested in how to safely make the kind of transition Ed Shank is making, together with his wife, Dawn, and six children.
As he took me on a whirlwind tour of his operation just off I-81, with its 120 acres of pasture, small farm store, and airy home, Ed made the point a few times that he's a poster boy for the viability of such transitions. As enthusiastic as he is, he cautions that it's not a simple proposition. "It's never going to work for the farmer who maintains his old mindset. He has to read. He has to get past the idea that production, production, production is important. He has to change his mentality." Ed Shank holds a chicken, as cows graze on an adjoining pasture.
Farmers who approach such a transition only from the vantage point of increasing their profits "shouldn't try to make the change. Raw milk in a confinement setting won't work."
But for those farmers willing to change their way of thinking about farming—from one of maximizing productivity to one of creating an ecologically sustainable system—"this is a model that is so repeatable," says Ed. "We can feed the world."
Part of his enthusiasm stems from the contrast with his feedlot operation, which involved hauling in feed for the cows, and hauling out their manure. The new sustainable system involves moving the cows from one pasture to another in line with growing grasses. The chickens follow the cows, and spread their manure around, as well as reduce the population of flies and other bugs. "This green grass is a solar panel," says Ed, looking over his cows. "The cow is the harvester. She is powered by solar energy… The harvesting and hauling of feed is done by the cows and the hauling of manure is done by the cows."
Another part of his enthusiasm stems from the changed nature of his interaction with customers. "You have these families that are thrilled that we are producing food for them," he says. "Before, I sold to a dairy co-op. Now I sell to a mom and dad and children coop. Those co-ops say sometimes, 'We pray for you.' I don't think the big co-ops ever prayed for me." Not only that, "We're glad the cows have a nicer life."
The entrance to The Family Cow farm. So far, The Family Cow is selling its products both through its farm store and through groups of consumers placing orders via email. With 275 milking cows, Ed Shank has instantaneously become the largest raw dairy operation in the East.
He is extremely grateful for the outside assistance he's received. "I can't say thanks enough to Mark McAfee and Joel Salatin and the Weston A. Price Foundation for their help and for preparing people's minds where they are ready for this sort of thing. It's been a liberating experience for us."
From: http://www.thecompletepatient.com/journal/2009/10/5/we-can-feed-the-world-says-ed-shank-as-he-transitions-from-f.html
Read more great posts on Real Food Wednesday, here: http://www.cheeseslave.com/2009/10/20/real-food-wednesday-october-21-2009/
It's great to see articles like this in the mainstream media.  Local, sustainable farmers are the most important people in having a safe and healthy food supply – Mom
By Wes Little
ELBERTON, Georgia  — In a parking lot in suburban Atlanta, customers mill in the summer heat, waiting for freezer bags full of beef, pork, chicken and other meats.
Tim Young raises cattle, pigs, chicken, turkeys and more on his "beyond organic" farm.
The draw that pulled them away from their grocery store and to the tailgate of a packed freezer truck? The meat is from animals raised naturally on a small family farm just two hours away.
"By supporting local farmers, we are essentially voting to support the local economy," said Anthony Chan, a member of a group that gets its meat monthly from Nature's Harmony Farm in Elberton, Georgia.
Nature's Harmony is a member of a growing local-food movement, often referred to as Community-Supported Agriculture. Video Watch video of Nature's Harmony »
The CSAs, as they're called, are a model in which consumers pay for their food in advance and receive it directly from the farmer. Working much like a magazine subscription, customers pay for a period of usually at least six months and receive packages either at the farm or at established delivery locations like the one in Lawrenceville, Georgia.
Although thousands of farms have sprung up over the past two decades selling fruits and vegetables using the system, experts say there are probably only a few dozen that, like the Georgia farm, offer meat.
Farmers Tim and Liz Young raise cattle, pigs, chickens, turkeys and lambs on their 76-acre farm in northeast Georgia, near the South Carolina state line.
The couple describes their farming technique as "beyond organic," saying they use no artificial fertilizers, growth hormones or antibiotics and don't keep their animals penned up.
Life on their property — where cattle and sheep graze in open fields and chickens follow along to clean up after them — looks much like the classic image of a family farm. But the couple say they consider themselves healers to both their customers and, according to their Web site, a food system that "had become a machine with little regard for food safety, food taste and animal welfare."
"People are becoming very disconnected from the food system," Liz Young said. "Buying from a local CSA or just shopping at a local farm, you can see where it's coming from. You can talk to the farmers and figure out how the animals or the produce is raised."
The couple has 50 subscribers, plus a waiting list, and say 2,000 people receive a newsletter on the farm's activities.
Members of the nation's handful of meat CSAs, and the thousands of others, offer a list of reasons.
The food is healthier and tastes better, they say. They like supporting their local economy. Eliminating cross-country delivery is better for the environment, as are the sustainable farming techniques the farmers tend to use.
"Being part of a CSA means that I know the first names of the people who are raising the meat I eat," said Andrew Johnson of Kansas City, Missouri, a member of the Parker Farms meat CSA in Richmond, Missouri. "Whereas, with the meat I buy from the grocery store, I don't know where it came from or who raised it."
Others say they appreciate that animals from the usually small family farms don't spend their lives in processing plants, conditions that advocates call inhumane.
Because CSA members deal with the farmers directly, they are able to visit the farms and see exactly how their food is produced. The transparency, they say, creates an incentive for farmers to raise their animals as naturally as possible.
"If we have any questions about how it is being grown, we can simply visit the farm ourselves," said Kristen Johnson, Andrew's wife.
Robert P. King, a professor of applied economics at the University of Minnesota, said that although community-supported agriculture "provides a good opportunity for farms that want to use sustainable practices to actually do well in the marketplace," it's nowhere close to challenging conventional agriculture's domination of the food market.
King said geographic availability can be limiting to CSAs. Generally, they require a rural area suitable for farming near an urban area that provide enough customers to make it work.
And then, King said, there's the cost. Operating on a smaller scale and avoiding mega-farm practices designed to cut costs and improve yields almost always mean higher prices.
A six-month Nature's Harmony membership ranges from $360, or $40 a month, for a poultry-only delivery to $840, or $140 a month, for 20 pounds of a variety of meats.
"Is it as cheap as the lowest-price chicken in the grocery store? Absolutely not," Tim Young said. "But with our prices and the prices of any sustainable farmer, you've got everything baked in: the cost to the environment, the cost to the health care system, the cost of producing that animal [in a humane way]."
Johnson said that any difference in prices at the Missouri farm, which charges a $1,150 annual fee, are worth it.
"I don't think it is significant, but if it does end up costing a bit more, it is still important to us to make this a priority," he said. "There are other expenses I am willing to give up rather than give up a safe, trusted food source."
The Youngs hope more people will get the chance to choose.
advertisement
"There's a big, burgeoning demand out there for local meat, for local food, for organic foods and we'd like to see more famers step up to fill that demand," Tim Young said. "We're trying to do that but we can never meet the demand that's out there.
"We'd love to see more farmers try to do what we're doing."
http://www.cnn.com/2009/LIVING/wayoflife/08/05/meat.farms/index.html
Read more great, Fight Back Friday posts here, http://www.foodrenegade.com/fight-back-friday-sept-4th