Archive for December, 2014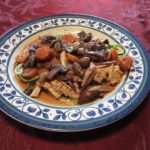 Slow Cooker Coq Au Vin
This is a great winter stew. Very rich and satisfying too.
Browning the bacon, chicken and vegetables briefly before adding them to the crock pot creates deep rich flavors in both the chicken and sauce.
We served it over zucchini noodles, you could also have it with crusty bread, potato's, or cauliflower rice or mashed cauliflower.