Archive for January, 2016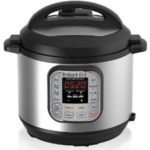 Electric Pressure Cooker
I got an Instant Pot for Christmas. I actually got a few gift cards and used them to buy one for myself. I do use a pressure cooker for canning in the summer, but have never cooked a meal in one.
Originally, I was looking at another brand and saw the Instant Pot as another option. I had never heard of this brand but once I started reading the reviews on Amazon, I was convinced. LOL
I've been using it for over a month and just love it. I've made the best beef stew we've ever had in an hour. I also cooked a whole spaghetti squash in eight minutes.