Archive for November, 2014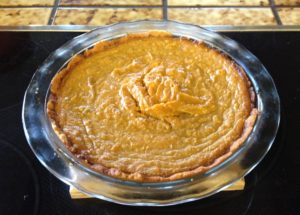 The Best Sweet Potato Pie
I found this recipe around 10 years ago and tweaked it to make it gluten free, and you can make it sugar free as well. It's SO good and what we're serving for dessert this Thanksgiving.
To make a gluten free crust, put in your food processor:
2 cups almond flour
dash salt
2 tablespoons coconut oil or pastured lard
1 organic pastured egg
Pulse the processor until the dough forms a ball and then press into your pan.
For the Pie:
Ingredients:
2 pounds organic sweet potato's
1/3 cup melted organic butter
¾ cup organic sugar (or swerve, or stevia equivalent)
3 organic eggs
¼ cup organic half and half or cream (or coconut cream/milk)
1 tsp organic lemon extract
Dash or organic cinnamon
Directions:
Wash potatoes and put them in a pot with cold water to cover. Bring to a boil and cook until soft, about 45 minutes.
Pour off hot water and then run cold water over the potatoes and drain, twice.
While hot, Peel potatoes and put them in your mixer bowl. Mix or whip until smooth. Add melted butter and stir until mixed in.
Add sweetener, taste for sweetness and add more if needed. Add eggs and stir until mixed in.
Add half and half, lemon extract and cinnamon. Mix well.
Pour mixture into pie shell and bake at 350° for an hour or until set.
Cool and enjoy! Serve with whipped cream if desired.
Read more, great Fat Tuesday posts here:  http://realfoodforager.com/fat-tuesday-november-25-2014/
Read more, great Real Food Wednesday posts here:  http://kellythekitchenkop.com/real-food-wednesday-11262014-real-food-recipe-blog-carnival.html
Save