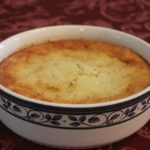 Coconut Custard Cake
This was a very easy recipe.  You can have it be both sugar and gluten free by using stevia. And you can substitute two cups of whole organic milk for the cream and water. The cream and water make it lower in carbs, either ways it's delicious!
Ingredients:
4 large pastured eggs
1 cup organic heavy cream
1 cup water
3 tsp. vanilla extract
4 T. organic butter
1/2 C. almond flour
3/4 C. Rapadura or Organic Sugar  or ¾ tsp Stevia (liquid)
1 C. organic shredded coconut (unsweetened)
Directions:
Place all ingredients into a large bowl. Blend until well combined.
Pour into a greased 9″ pie dish or casserole and bake at 350
degrees for approx. 1 hour or until set well.
Tastes amazingly like rice pudding! Really nice 🙂
8 generous servings
Read more great, Monday Mania posts here: http://www.thehealthyhomeeconomist.com/monday-mania-5282012/
Read more great, Fat Tuesday posts here: http://realfoodforager.com/fat-tuesday-may-29-2012/
Read more great, Real Food Wednesday posts here: http://kellythekitchenkop.com/2012/05/real-food-wednesday-5232012.html
Read more great, Simple Lives Thursday posts here: http://gnowfglins.com/2012/05/30/simple-lives-thursday-98/#
Read more great, Pennywise Platter Thursday posts here: http://www.thenourishinggourmet.com/2012/05/pennywise-platter-thursday-524.html
Read more great, Fight back Friday posts here: http://www.foodrenegade.com/fight-back-friday-june-1st/
Save