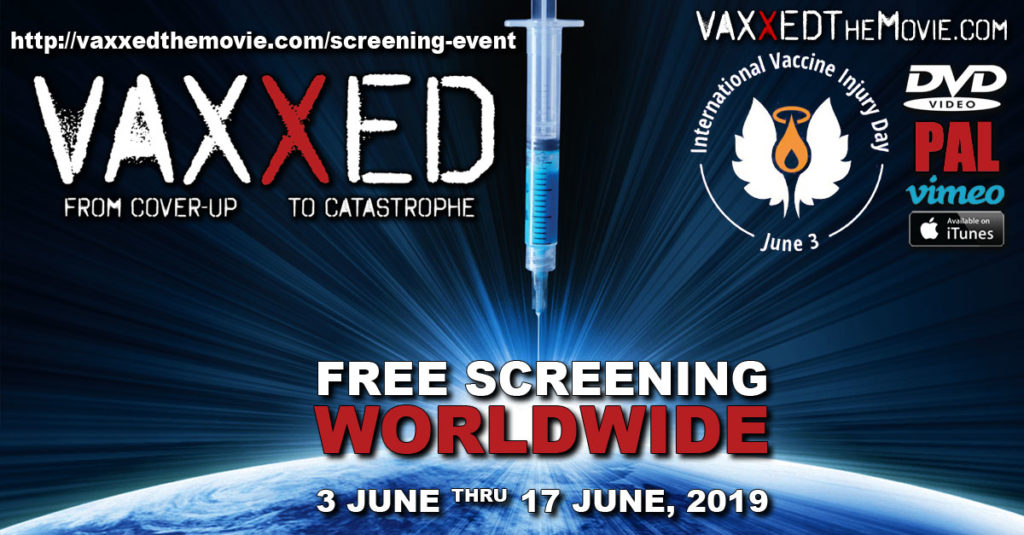 You can watch this must see film free for two weeks – Mom
VAXXED IS SCREENING FOR FREE WORLDWIDE FOR THE NEXT 14 DAYS!
In honor of International Vaccine Injury Awareness Day today, June 3, we would like to bring awareness to all of the vaccine injured children and adults throughout the world by offering a FREE worldwide stream of our film "Vaxxed: From Cover-Up to Catastrophe" from 3 June thru 17 June. This free screening event will also counter the constant misinformation and untruths from the pharmaceutical industry-funded media and politicians that are pushing mandatory vaccine laws across the globe. Recently, there have been several television broadcasts in Europe (not to mention the clamp down on vaccine information by the social media platforms!) that intentionally spread misinformation about Vaxxed and the director of our film, Andrew Wakefield. As a result, we are offering a free stream of the film worldwide to provide access to the truth. Please share the free streaming link with your friends, family, practitioners and legislators and encourage them to watch!
WATCH VAXXED FOR FREE WORLDWIDE HERE
(excluding: Germany & wherever Vimeo is not accessible)
PLUS, FOR A LIMITED TIME, GET 2 FOR 1 VAXXED DVD'S!
That's right, buy 1 DVD, get 1 DVD FREE!
NTSC AND PAL DVDs available
That's only $14.98 + shipping for 2 DVDs!

PLUS, GET FREE SHIPPING WORLDWIDE ON NTSC DVD 10PACKS & INTERNATIONAL PAL DVD 10PACKS! **Must enter discount code: VAXXED10PACK during checkout for free shipping**

Buy the US NTSC 10 Pack Here
Buy the International PAL 10 Pack Here

You can also stream the film HEREon Vimeo in over 250 countries worldwide!