Archive for the 'Reviews' Category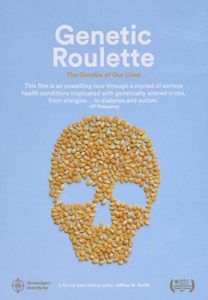 Genetic Roulette Movie Review  –  A Must See Documentary
Jeffrey Smith just released an incredible new documentary called Genetic Roulette: The Gamble of Our Lives.  It's narrated by Lisa Oz (daughter of Dr. Oz) and features interviews with physicians, scientists, farmers, dieticians, chefs and educators all discussing the problems with genetically engineered foods.
Americans get sick more often then Europeans and people in other industrial countries and we're getting sicker.  Since the mid 1990's when Genetically Modified Organisms (Genetically Engineered Foods) when our food supply was taken over, without our knowledge or our consent.  The number of Americans suffering at least three chronic illnesses nearly doubled.  Why is this taking place?
We've had an epidemic increase in cancer, obesity, allergies, autism, diabetes, asthma, and intestinal disorders.  These are the same conditions that animals eating genetically engineered foods develop in the lab.  It seems like we, and our children, are the guinea pigs of the biotech industry. And contrary to what 'industry' states, there are NO long-term safety studies.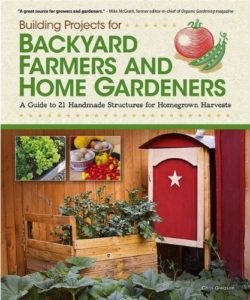 So many great projects
I've gardened for a number of years now and have had chickens for three years as well. We are always looking for projects to make things nicer on our little suburban homestead.
Mr. Gleason's book is a wealth of great ideas and has twenty-one different building projects that you can make to use around your yard and garden.
I thought the variety of projects was wonderful, everything from a simple raised bed, to a green house using recycled windows. You can also make a worm bin, a potato planter, and there are a number of different types of trellises for peas, squash, grapes and a really cool tiered lettuce rack, that will be my first project!  There are also instructions for building a green house, top bar beehive and a rabbit hutch.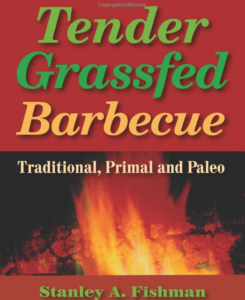 Fantastic Grassfed Barbecue
It's been just over two years since I first started using Mr. Fishman's previous book, Tender Grassfed Meat. I still use it all the time and every recipe I have tried has been wonderful. To me this shows an author who truly tests their recipes and takes the best ones for their book.
I was so excited to get this new book and see what new recipes there were to try.  Cooking grassfed meat is very different then cooking corn fed meat. It's much better for us and for the animals and the taste is truly wonderful, but learning to cook it can be challenging at first. Once you learn the methods it's easy but you do need to learn the differences.
This book is broken into three sections. The first section is an overview of the benefits of traditional foods and traditional barbecue methods. There have been article about how it's unhealthy to barbecue meat, and this book gives you how to barbecue healthfully, using real food ingredients.
Farmageddon – A MUST See Movie
We saw Farmageddon – The Unseen War on American Family Farms last week.  It's produced and directed by Kristin Canty, a mom of four, who couldn't understand why the healthy food she wanted to buy for her family, was so hard to find.
Kristin said, about why she made this film, "I decided I needed to tell this story. My goal was to let these honest farmers using centuries old farming practices tell their side of the stories. So, I set out to make a film. Farmageddon is in no way meant to convince anyone to drink raw milk, or eat grass fed beef, but rather an argument to allow those that want to make those choices to do so. It is simply about freedom of food choice. The government needs to stop harassing small farmers, private food buying clubs and co- ops without food freedom…. we are not free."
From the movie's website, "Americans' right to access fresh, healthy foods of their choice is under attack. Farmageddon tells the story of small, family farms that were providing safe, healthy foods to their communities and were forced to stop, sometimes through violent action, by agents of misguided government bureaucracies, and seeks to figure out why."
We've had backyard chickens for two years now. It's been so wonderful to have pastured, organic eggs, right from our own backyard. I love my chickens and as I'd like to have more in the next few years, researching coop ideas has become a hobby for me. I was very happy to be able to review this book.
Art of the Chicken Coop by Chris Gleason has seven different coop ideas. Four of them are for flocks of six chickens or less, which is a great size for a back yard flock. We get on average five eggs per week from each of our chickens; this gives us enough for our family, as well as some to share occasionally.
If you are planning on keep more chickens, three of the coop designs are for larger coops, if you'd like to have twelve to fifteen chickens. Also included are some guidelines on how to increase the size of any coops in the book. There's even instructions for a coop made out of salvaged materials.
This is also a great book for the beginning chicken owner, because not only are there coop designs but there are a lot of chicken keeping tips through out the book and explanations for what you need to have in your coop and why.
Food Fight is a great new documentary that we watched over the holidays.  It's a bit different than some of the other documentaries that we've reviewed in that it shows the history of food production in our country and gives detailed answers about what is wrong with our food supply and how we can fix it.
There are a number of wonderful interviews with Alice Waters, Michael Pollan & Marion Nestle, among others.
One quote from Michael Pollan says, "The industrial food system is not doing what a food system is supposed to do – which is to keep a population healthy. Our food system is making us sick"
The original farm bills were created to help feed the hungry and when women went into the workplace during World War 2, they wanted convenient ways to prepare foods and so the start of processed foods was born.
One of my new favorite cookbooks!
About 5 years ago, as I started to learn more about how factory farms were treating animals in this country, I started looking into buying grassfed meat.  Grassfed meat is raised on pasture, not on feedlots. They eat and are raised as nature intended eating grass. Cows, bison and lambs are herbivores and are not supposed to be eating grain, it makes them sick.
So we started buying grassfed beef, lamb and bison. Everyone in the family loved it but it was challenging to cook as it's not as fatty as feedlot beef, but it's much healthier, and tastier so we kept experimenting. I wish we had this cookbook then. It's a wonderful cookbook about cooking healthfully and has many recipes for beef, bison, lamb as well as marinades and side dishes. We base a lot of our cooking on the Nourishing Traditions Cookbook by Sally Fallon and Mary Enig (also highly recommended) and this book is a wonderful companion book. The same principles are used and the recipes we've tried have been delicious. I learned new techniques that have made a big difference, especially for cooking bison.
The recipes are broken up into easy to find sections. Part one is all the basics, from why grassfed is so good for you, to ingredients, to equipment and techniques. There's a lot of detailed information here that makes the recipes even easier.
We watched Food Matters for the second time this weekend. It's a very informative movie about how food and nutrients can heal us from so many common and serious ailments and how important it is.
The movie has a number of well know and knowledgeable speakers including, Charlotte Gerson, Andrew Saul, David Wolfe, Philip Day, Dr. Dan Rodgers and more.  I have to say, I've been involved in alternative healing and nutrition for over 30 years and there were some new things I learned from this movie.
Here's just a small sampling of information from the movie:
The Recommended Dietary Allowance (RDA) is the amount needed to prevent disease, not the amount needed for good health.
Book review of Mom, Will This Chicken Give Me Man Boobs? My Confused, Guilt-ridden, and Stressful Struggle to Raise A Green Family by Robyn Harding
As I've aged/"grown up", I've been finding myself more and more aware of environmental issues. I'm becoming more conscious not only of my carbon footprint but I'm also gaining a greater understanding of how products I may be putting in or on my body (or in and on the bodies of my children) could be affecting our health and well-being. As I hear more about such things it just makes me want to know more. In a sense I'm finding that my learning more and doing more about environmental issues is just another way for me to be looking out for my children. My reading choices lately have been reflecting this growing interest and my latest read not only gave me some additional food for thought (and even more references to check out) but Mom, Will This Chicken Give Me Man Boobs? also gave me a down to earth picture of one woman's quest to not only become more green herself but also to raise her family in a greener lifestyle.
I fully admit one of the things that caught my attention with this book was not the subject matter, but the title. The title hooked me and was an indicator that while getting a bit of an education, I would also be getting a dose of Robyn Harding's sense of humour (something I've enjoyed in her fiction and was pleased to see present in her non-fiction work as well.) I know it's a serious subject being dealt with, but for me, her use of humor and poking fun at herself just made it all so much more enjoyable to read and was balanced out with some great information.
Ms. Harding is currently living in Vancouver, BC (only an hour away from me) so I found some of her information even more relevant. Throughout her book Ms. Harding mentions various books and websites, which I'll be checking out. She also makes general references to local businesses that I have made note of. As I was reading this book I found myself connecting with Ms. Harding, especially as she dealt with questions/concerns from her children. My daughter is at an age where she is becoming more aware of the world around her and has been picking up some basic ideas where she can do her part (ex. turning off lights, knowing what can be put in recycling, and wow, is she a watchdog when someone might be wasting water!) I love this awareness and I'm hoping it continues to grow as she does.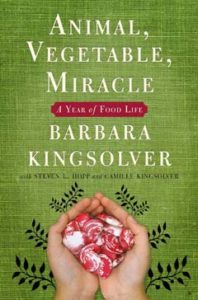 Animal, Vegetable, Miracle is the story of author Barbara Kingsolver and her family and their quest to eat locally and in season for one year.
She packed up with her husband and two daughters and moved from Arizona to their farm in VA where they'd been spending their summer for many years. This time they were planning on staying and spending a year eating what they could find locally and grow for themselves.
The book reminded me of how much we take for granted with our mass produced food.  Winter tomatoes are not a local food – and you can tell by the taste!  Having to wait for the fruits and vegetables of summer was both an adventure and a challenge to the author and her family, and it's one she shares with us.  The book is full of funny and touching stories of their trials along the way.  Daughter Lily's plans, and how they changed, about going into the egg business, the first tomatoes and cherries of the season, the abundance of tomatoes and what to do with them.
There are also mouthwatering recipes throughout the book, many of which have already been added to my own.  This book is chock full of information about farming, food and cooking too.