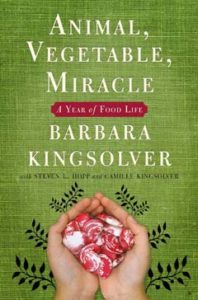 Animal, Vegetable, Miracle is the story of author Barbara Kingsolver and her family and their quest to eat locally and in season for one year.
She packed up with her husband and two daughters and moved from Arizona to their farm in VA where they'd been spending their summer for many years. This time they were planning on staying and spending a year eating what they could find locally and grow for themselves.
The book reminded me of how much we take for granted with our mass produced food.  Winter tomatoes are not a local food – and you can tell by the taste!  Having to wait for the fruits and vegetables of summer was both an adventure and a challenge to the author and her family, and it's one she shares with us.  The book is full of funny and touching stories of their trials along the way.  Daughter Lily's plans, and how they changed, about going into the egg business, the first tomatoes and cherries of the season, the abundance of tomatoes and what to do with them.
There are also mouthwatering recipes throughout the book, many of which have already been added to my own.  This book is chock full of information about farming, food and cooking too.
I loved this quote, as it really does seem to relate to what's going on with our own food supply these days, "When centralization collapses on itself, as it inevitably does, back we go to the family farm. The Roman Empire grew fat on the fruits of huge, corporate, slave-driven agriculture operations, tot eh near exclusion of any small farms by the end of the era. But when Rome crashed and burned, its urbanized citizenry scurried out to every nook and cranny of Italy's mountains and valleys, returning once again to the work of feeding themselves and their families"
I first listened to this on audio-book, read by the authors and I really enjoyed their reading.  As wonderful a writer as Barbara is, she is that great of a reader too. As is her husband Steven and daughter Camille.
Animal, Vegetable, Miracle is a terrific book for anyone interested in real food, cooking, gardening and stories of home. A wonderful book, highly recommended in any format.
You can read more great posts about real food, on Fight Back Friday here,
http://www.foodrenegade.com/fight-back-fridays-july-3rd
Click picture to buy the book.
Save