Archive for September, 2015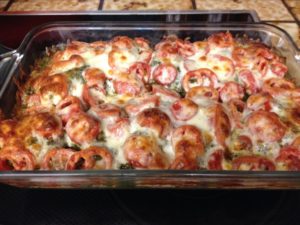 Four Ingredient Chicken Bake
I actually saw a version of this as a video on Facebook. It looked good and as I had pesto in the freezer and fresh tomatoes that needed using, I tried it and it's great! Very easy to make and it was a hit.
Four Organic Chicken Breasts or Six Organic Chicken thighs – boneless and skinless
Organic pesto – if you don't have any blend basil, almonds or walnuts, garlic, salt, Parmesan cheese and a bit of olive oil – and it's pesto
4-8 organic Roma Tomatoes – I have San Marzano's from the garden and it was about 2 per chicken breast to cover.
1 to 2 cups shredded organic Mozzarella Cheese
Layer ingredients, in order, in a baking dish.
Bake at 400° for 40 minutes and enjoy!
Save