Archive for the 'Food Policy' Category
Great video about farmers who are doing it right. Revolutions start from the bottom!
Unbroken Ground from Patagonia Provisions on Vimeo.
Our food choices are deeply connected to climate change. Food will play a critical role in the next frontier of our efforts to solve the environmental crisis.
Join us to celebrate the release of Unbroken Ground, a compelling new film by Chris Malloy that explores four areas of agriculture that aim to change our relationship to the land and oceans. Following the 25 minute film, hear from a panel of speakers and taste Patagonia Provisions' organic food sourced from our partners featured in the film.
Wonderful interview with Wendell Berry. He's talking about sustainable farming and what we can do in the world. Very inspiring!
This is happening May 25th all over the world. Find a march near you and let's all get out there and stand up for our food supply!
More info at:
http://www.march-against-monsanto.com/
This is from the site, also has the FB and other links to find a march near you.
GMO Labeling in the News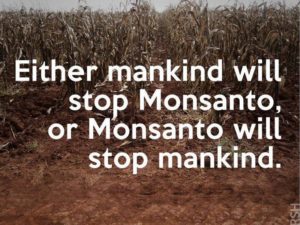 Some great articles this week and a wonderful YouTube video too.  Mom
GMOs and Real Food in the News
Lot of great things going on in the news this week. Enjoy!  Mom
Goodbye, Factory Farm: 'Food, Inc.' Chicken Farmer Goes Rogue
Fed up with the horrific conditions, former Perdue contractor Carole Morison has started a humane, free-range farm.
It's Our Right to Know
If you live in California (and forward this to those you know who do!)
There is a GMO Labeling 2012 Ballot Initiative in the works.
Go to the site, and sign up to help and/or give a donation.
Since the early 1990's there have been genetically modified organisms in our food. GMOs – short for genetically modified organisms – are man-made organism created in a laboratory and patented by a corporation or the USDA. GMOs are created by a process called genetic engineering.  Many people have been asking for required labeling of GMO food, as already exists in thirty other countries. And there are a growing number of countries, like Ireland, Japan and Egypt that have completely banned the cultivation of GMO crops.
GMOs are not created the same way as traditional cross-breeding. Traditional cross-breeding is creating natural hybrids, such as crossing two varieties of roses, different types of squashes, or different breeds of dogs or cats. GMOs are made by actually splicing a gene from a virus or another species into the GMO seed.  Some examples are, fish genes being spliced into tomatoes, human genes in corn, mouse genes in potatoes.
Since the 1990's, people have been asking for GMO food to be labeled.  We've been asking the USDA, the FDA, our legislators and the courts. They are not listening, and it's time for us to speak for ourselves.
Farmageddon – A MUST See Movie
We saw Farmageddon – The Unseen War on American Family Farms last week.  It's produced and directed by Kristin Canty, a mom of four, who couldn't understand why the healthy food she wanted to buy for her family, was so hard to find.
Kristin said, about why she made this film, "I decided I needed to tell this story. My goal was to let these honest farmers using centuries old farming practices tell their side of the stories. So, I set out to make a film. Farmageddon is in no way meant to convince anyone to drink raw milk, or eat grass fed beef, but rather an argument to allow those that want to make those choices to do so. It is simply about freedom of food choice. The government needs to stop harassing small farmers, private food buying clubs and co- ops without food freedom…. we are not free."
From the movie's website, "Americans' right to access fresh, healthy foods of their choice is under attack. Farmageddon tells the story of small, family farms that were providing safe, healthy foods to their communities and were forced to stop, sometimes through violent action, by agents of misguided government bureaucracies, and seeks to figure out why."
What we can do!
I wanted to add some updates to "what we can do" to work towards ending GMO's in our food supply. There are a lot of people starting to take action and it's making a difference.
First, if you, or your family and friends have not yet seen the movies The Future of Food and The World According to Monsanto, you can watch both for free.  Watch them and then share the links with everyone you know.
Knowledge is power!