This is a few years old but really worth watching and you can watch the complete movie for free here or on YouTube. Mom
I've been watching the great YouTube videos from Justin Rhodes and family.  They are traveling around the country visiting farms and gardens all over the country.  You will learn a lot and be entertained as well.  Enjoy!
The Legacy of Monsanto's PCBs: Oozing Pus, Birth Defects and Immune Problems
New Bedford Harbor, Massachusetts, pictured on November 25, 2006. In 1983, New Bedford Harbor was declared a Superfund site, heavily contaminated with PCBs. (Photo: Jack Letourneau / Flickr)
The people of New Bedford, Massachusetts, have always been tough. When New Bedford was the whaling capital of the world, seven men would hop into a 25-foot rowboat to chase — and harpoon up close — furious 50-foot whales weighing 85 tons. After petroleum replaced whale oil around 1900, New Bedford workers then kept 70 textile mills humming day and night. After textiles moved away, from the 1940s onward New Bedford supplied the world with electric gear. But when those factories began to close in the 1960s, they left behind some awful secrets — 572 chemically poisoned plots of land within the city's 24 square miles, including land where unsuspecting townspeople built two public schools. In the early 1980s, local people learned that their prized harbor — all 18,000 acres of it, including its bounty of fish and lobsters — had been rendered dangerously toxic by factory wastes. In 1983, New Bedford Harbor, the mouth of the Acushnet River, was declared a Superfund site, heavily contaminated with PCBs (polychlorinated biphenyls). This small city reeled. To many, the combination of unemployment and toxic waste seemed insurmountable.
PCBs are a family of 209 industrial poisons known to harm humans at extremely low levels of exposure. PCBs cause cancer, diabetes, birth defects, liver disease and high blood pressure — and they disrupt the nervous, hormonal and immune systems, giving rise to a broad array of other problems. A few of the 209 PCBs are thought to pose a toxic threat even more potent than dioxin.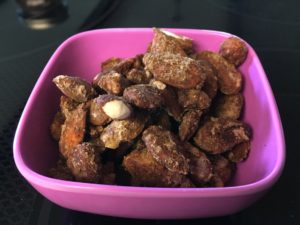 Sweet and Spicy Nuts
I started making these around the holidays. I tried a number of recipes and tweaked them a bit to come up with this. I store them in canning jars, on the counter and they are usually gone within a week. Everyone loves them.
Ingredients:
Spicy Hot Sauerkraut
We've been making Sauerkraut for a few years now and this one is a new favorite. Lots of garlic and jalapeno peppers, almost like a kimchi. Goes great with everything!
Ingredients
Pear Apple Crumble – gluten free
We got 20 pounds of local, organic apples and pears and I wanted to use some for making desserts for the family. Found a number of recipes I played around with until I came up with this. It's delicious and was a big hit with everyone.
Ingredients:
Filling:
If You Eat Food, Read This Book!
This is a very informative and well written book about Genetically Modified Organism, also known as GMO's. GMO's were pretty much sneaked into our food supply in the almost thirty years ago. These plants either make their own pesticides (they are pesticides and we eat them) or they are resistant to pesticides, like Round-up – which can be poured all over them and they won't die.
GMO's take away our seed sovereignty and our farmers, who for generations saved their seed, have to buy new ones every year when they use this technology. There have been no human safety studies for any of these foods and there is growing evidence that they are causing a host of new illnesses like severe allergies and immune issues.
The author, starts out by telling her personal story of how she had a debilitating illness and how her very young son had terrible eczema.  After seeing many doctors, having all the tests and still not finding any relief she went to a very prestigious allergist who diagnosed a chronic allergic response to GMO corn. She took herself and her family off all GMO corn (corn, corn syrup, citric acid, baking soda, vitamins – corn is in SO much of our food) and over time of eating real food, cooked from scratch and avoiding GMOs, both the author and her son healed.
Great video about farmers who are doing it right. Revolutions start from the bottom!
Unbroken Ground from Patagonia Provisions on Vimeo.
Our food choices are deeply connected to climate change. Food will play a critical role in the next frontier of our efforts to solve the environmental crisis.
Join us to celebrate the release of Unbroken Ground, a compelling new film by Chris Malloy that explores four areas of agriculture that aim to change our relationship to the land and oceans. Following the 25 minute film, hear from a panel of speakers and taste Patagonia Provisions' organic food sourced from our partners featured in the film.