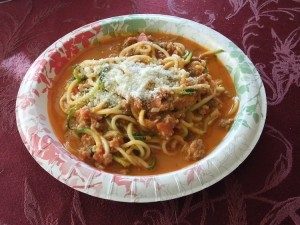 I bought a spiral vegetable slicer a few years back and haven't had the right occasion to try it out. This year are garden is growing giant zucchini's so I decided to pull it out and make 'spaghetti' with our zucchini. It was great!
I'll put a link below to the slicer I used. It was SO easy and made long wonderful strands from the zucchini.
This is a pretty free form recipe. You can use any kind of sauce and or meat that you'd like. It would be great with Pesto as well.
Ingredients (for the recipe pictured)
1 pound organic hot Italian pork sausage  (ground – you could use ground beef, or lamb too)
1 large organic zucchini (it was really big! – I'm guessing at least 2-3 pounds)
1 jar of organic spaghetti sauce any type.
Directions:
Brown sausage in a pan until cooked through. Add sauce and simmer for a few minutes. Add Zucchini noodles and simmer for 2-3 minutes. Sprinkle with Parmesan cheese if desired and enjoy! (Serves 4-6)
Here's the link for the one I used.