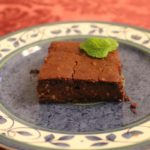 Gluten and Sugar Free Brownies
I found this recipe, which I tweaked a little in a wonderful out of print cookbook, The Low Carb Gourmet by Karen Barnaby. You can make a half recipe in a 8" square pan as well. These were really good.
Ingredients
10 ounces organic cream cheese, at room temperature
16 tablespoons pastured/organic butter, at room temperature (2 sticks)
4 ounces unsweetened chocolate, melted and cooled
Stevia liquid or powder to equal 1 cup of Sugar (I use 1 tablespoon powder)
4 large, organic and pastured eggs
2 teaspoons instant coffee granules
1 1/2 teaspoons organic vanilla extract
1 1/2 teaspoons pure chocolate extract (optional)
1 1/2 cups almond meal (finely ground almonds – I make ours from crispy almonds)
6 tablespoons organic Dutch-processed cocoa powder
1/4 teaspoons Celtic sea salt
1 1/2 teaspoon baking powder
Directions
In a large bowl, beat the cream cheese and Butter until smooth. Beat in the chocolate and sweetener. Beat in the eggs, 1 at a time, scraping the bowl well after each addition. Add the coffee and extracts. Beat until combined.
In a medium bowl, mix the almond meal, cocoa, salt, and baking powder. Add to the chocolate mixture and beat well. Scrape into the prepared pan and smooth the top.
Bake for 35 to 40 minutes, until the top is firm. Cool on a wire rack before cutting. Store, covered, in the refrigerator.
Per Brownie, if cut into 24 servings: Effective carbohydrates: 3 grams each.  Enjoy!
Read more, great Monday Mania posts here: http://www.thehealthyhomeeconomist.com/2011/10/monday-mania-10312011/
Read more, great Fat Tuesday posts here: http://realfoodforager.com/2011/10/fat-tuesday-november-1-2011/
Read more, great Real Food Wednesday posts here: http://kellythekitchenkop.com/2011/11/real-food-wednesday-1122011.html
Read more, great Simple Lives Thursday posts here: http://gnowfglins.com/2011/11/02/simple-lives-thursday-68/
Read more, great Fight Back Friday posts here: http://www.foodrenegade.com/fight-back-friday-november-4th/
Save