Important info on pet food as GMO's are in many commercial brands.
Mom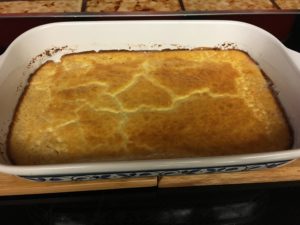 Easy Gluten Free Pan-Cakes
We've been making these for a few years now. So easy to make, you just blend the ingredients and cook in a pan in the oven. You can also use Greek Yogurt, instead of sour cream but I think the sour cream adds a nice tang. I got the picture at the wrong angle but when I made it today, to take a pic, it turned out with a heart in the middle. Love, Mom.
Ingredients
Read the rest of this entry »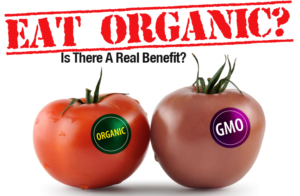 GMO's in the News – Oct 2018
There's lots going on this month!
Mom
Fiery Ferments Cookbook review
I've been making basic ferments like sauerkraut and pickles for many years now but decided to branch out this year. I got this book for Christmas last year and finally got to put it to good use this summer.
I've made five recipes so far and they have all been delicious. All the recipes except one calls for taking out the seeds of the hot peppers and between that and the fermenting the heat level is perfect. The recipes are all listed by heat level too so you can choose how hot to make your ferments.
There are also recipes in the back of the book to give you some ideas of what to use the ferments in. And because they're fermented, most of the recipes will last up to a year in the fridge, although not sure if they'll last that long around here.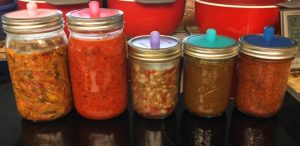 Pictured from left: Spicy Mango Onion ferment – Sri-rawcha – Caribbean salsa – Zhug and last is Adzhika.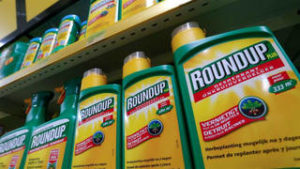 It's About Time!
This week a trial in California ended with a jury awarding 289 Million dollars to a groundskeeper who got cancer after using Roundup.
Dewayne Lee Johnson was heroic and we send him prayers and good energy for healing.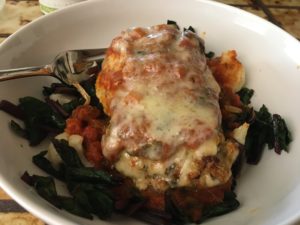 Easy Chicken Parmesan
I've made this a few times now. It's really easy and tasty too.
Excellent talk by Jeffrey Smith.
"• The biotech industry's claim that genetically modified (GM) foods are safe is shattered in this groundbreaking lecture. Safety assessments on GM crops are not competent to identify the health problems and industry research is rigged to avoid finding problems. • This lecture is for anyone wanting to understand GM technology, to learn how to protect themselves, or to share their concerns with others. It is presented in the clear, accessible style that made Jeffrey Smith's Seeds of Deception the world's best-selling book on genetically engineered foods."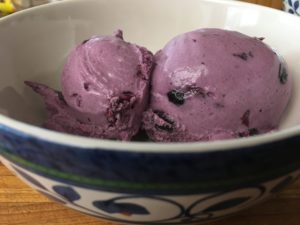 Blueberry Ice Cream
Blueberry season is coming soon and as I have a bag still in the freezer from last year, I decided to make ice cream. It was really good!
3 cups organic blueberries (mine were frozen)