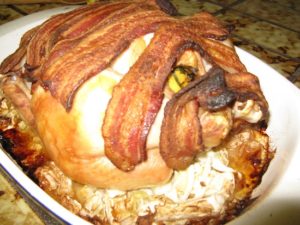 Whole Roasted Chicken with Bacon
I saw this made on a cooking show and it looked delicious. I found a number of recipes online and blended them together to make this one.  It looks beautiful when it comes out, would be lovely served to company and makes great leftovers as well.
Serves 4-6
1 whole organic pastured chicken
Celtic Salt
Freshly ground black pepper
4 sprigs fresh thyme (I didn't have any so used Tarragon, it was delicious)
2 organic lemons, cut into 8 wedges each
8 strips organic bacon
1 tablespoon Dijon mustard
1. Preheat oven to 400 degrees F
2. Season the outside of the chicken with salt and pepper. Fill the cavity with the tarragon and lemon slices. Arrange the strips of bacon, slightly overlapping, over the chicken.
3. Transfer the chicken to a pan with a fitted roasting rack and place in the center of the oven. Cook for 90 minutes. Remove the chicken from the oven and allow it to rest for 10 minutes before carving. The bacon should form a hard shell over the breast meat. Take care to use a share knife when carving so the bacon stays on top of the white meat.  (Or, pull off the pieces and serve it along side the chicken).
4. Make a sauce by pouring the juices from inside the cavity (along with the lemon wedges) into the roasting pan. Put the pan on the burner and whisk in the mustard. Stir to enable it to come together. Strain, pressing down on the lemon wedges to get the juice into the sauce, and serve with the chicken.  We also made it a second time, with chopped cabbage and veggies under the chicken and they had a great bacon flavor, but I did prefer the first version so you can make the mustard sauce.  Enjoy!
Read more great Fat Tuesday posts here: http://realfoodforager.com/fat-tuesday-january-8-2013/
Save