Fiery Ferments Cookbook review
I've been making basic ferments like sauerkraut and pickles for many years now but decided to branch out this year. I got this book for Christmas last year and finally got to put it to good use this summer.
I've made five recipes so far and they have all been delicious. All the recipes except one calls for taking out the seeds of the hot peppers and between that and the fermenting the heat level is perfect. The recipes are all listed by heat level too so you can choose how hot to make your ferments.
There are also recipes in the back of the book to give you some ideas of what to use the ferments in. And because they're fermented, most of the recipes will last up to a year in the fridge, although not sure if they'll last that long around here.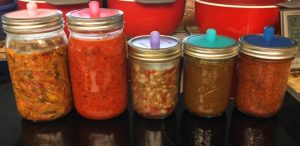 Pictured from left: Spicy Mango Onion ferment – Sri-rawcha – Caribbean salsa – Zhug and last is Adzhika.
The first recipe I made was for Zhug, which is a classic Yemeni chili paste. It's sort of like a spicy cilantro pesto and is delicious on roasted or steamed veggies. The recipe made a pint.
The second one was Adzhika, which is a Georgian Pepper relish. This is delicious on burgers. We mixed some with a bit of mayonnaise and it was the perfect burger topping. The recipe made a pint.
Third, I made the Caribbean Salsa. This recipe called for habaneros but as I didn't have any I substituted aji sugar rush peach peppers which I got from our local farmers market. They are not quite as hot but still have the fruity flavor and they worked perfectly. You can switch up which peppers you use and many recipes give you a number of different choices. This is a very spicy but yummy salsa.
Next, I made the Srirawcha. This is a raw, fermented version of Sriacha sauce. It's delicious and the recipe made a quart so we should have this for a while.
Last I made the Spicy Onion-Mango Ferment. This one reminds me of the spicy pickles you get at Indian restaurants. It has curry powder, and ginger – yum.  This one is also a quart sized recipe.
There are a number of other recipes I want to try too, like the Spicy Carrot and Lime Salad and the Jamaican Jerk Sauce, just to name two.
A great book and highly recommended.
Link to buy the book on Amazon here: