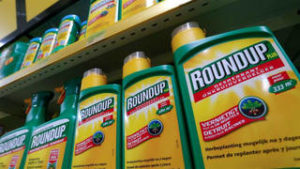 It's About Time!
This week a trial in California ended with a jury awarding 289 Million dollars to a groundskeeper who got cancer after using Roundup.
Dewayne Lee Johnson was heroic and we send him prayers and good energy for healing.
Mom
Here are some of the stories in the news:
Historic Ruling Against Monsanto Finds Company Acted with "Malice" Against Groundskeeper with Cancer
California jurors have awarded $289 million in a historic verdict against Monsanto in the case of a school groundskeeper who developed cancer after using its weed killer, Roundup. We speak with Brent Wisner, the lead trial counsel for Dewayne Lee Johnson, who has non-Hodgkin's lymphoma. Doctors say he is unlikely to live past 2020. Johnson's was the first lawsuit to go to trial alleging glyphosate causes cancer. Filed in 2016, it was fast-tracked for trial due to the severity of his illness.
Read/watch more here:
https://www.democracynow.org/2018/8/14/historic_ruling_against_monsanto_finds_company
One man's suffering exposed Monsanto's secrets to the world
Company's own records revealed damning truth of glyphosate-based herbicides' link to cancer
It was a verdict heard around the world. In a stunning blow to one of the world's largest seed and chemical companies, jurors in San Francisco have told Monsanto it must pay $289m in damages to a man dying of cancer which he claims was caused by exposure to its herbicides.
Monsanto, which became a unit of Bayer AG in June, has spent decades convincing consumers, farmers, politicians and regulators to ignore mounting evidence linking its glyphosate-based herbicides to cancer and other health problems. The company has employed a range of tactics – some drawn from the same playbook used by the tobacco industry in defending the safety of cigarettes – to suppress and manipulate scientific literature, harass journalists and scientists who did not parrot the company's propaganda, and arm-twist and collude with regulators. Indeed, one of Monsanto's lead defense attorneys in the San Francisco case was George Lombardi, whose resumé boasts of his work defending big tobacco.
Now, in this one case, through the suffering of one man, Monsanto's secretive strategies have been laid bare for the world to see. Monsanto was undone by the words of its own scientists, the damning truth illuminated through the company's emails, internal strategy reports and other communications.
The jury's verdict found not only that Monsanto's Roundup and related glyphosate-based brands presented a substantial danger to people using them, but that there was "clear and convincing evidence" that Monsanto's officials acted with "malice or oppression" in failing to adequately warn of the risks.
Read more here:
https://www.theguardian.com/business/2018/aug/11/one-mans-suffering-exposed-monsantos-secrets-to-the-world
Monsanto to Pay $289.2M in Landmark Roundup Lawsuit Verdict
A San Francisco jury returned a verdict today in the case of a former groundskeeper with terminal cancer against Monsanto Company, ordering the agrochemical giant to pay $39.2 million in compensatory damages and $250 million in punitive damages for failing to warn consumers that exposure to Roundup weed killer causes cancer.
Dewayne "Lee" Johnson filed the lawsuit (case no. CGC-16-550128) against St. Louis-based Monsanto Co. on Jan. 28, 2016, alleging exposure to the Roundup herbicide he sprayed while working as a groundskeeper for the Benicia Unified School District caused him to develop non-Hodgkin lymphoma (NHL).
On June 18, 2018, his case was assigned to Judge Suzanne Ramos Bolanos for the Superior Court of San Francisco, California. Johnson's case was the first of its kind to proceed to trial due to his terminal diagnosis.
After eight weeks of trial proceedings, the jury found unanimously that Monsanto's glyphosate-based Roundup weed killer caused Mr. Johnson to develop NHL, and that Monsanto failed to warn of this severe health hazard. Importantly, the jury also found that Monsanto acted with malice, oppression or fraud and should be punished for its conduct.
Monsanto Co. continues to refuse to warn consumers of the dangers of its multi-billion-dollar product Roundup despite the world's foremost authority on cancer—the International Agency for Research on Cancer (IARC)—listing glyphosate as a probable carcinogen in 2015.
Lee Johnson is one of more than 4,000 people from across the country to file suit against Monsanto in state and federal courts based on allegations linking Roundup to cancer.
He was represented at trial by Brent Wisner of Baum, Hedlund, Aristei and Goldman, David Dickens of the Miller Firm and Mark Burton of Audet & Partners LLP.
Co-lead trial counsel Brent Wisner said today's verdict was a result of newly-revealed, confidential company documents.
"We were finally able to show the jury the secret, internal Monsanto documents proving that Monsanto has known for decades that glyphosate and specifically Roundup could cause cancer," Wisner said. "Despite the Environmental Protection Agency's failure to require labeling, we are proud that an independent jury followed the evidence and used its voice to send a message to Monsanto that its years of deception regarding Roundup is over and that they should put consumer safety first over profits."
For years Monsanto has claimed that there is no evidence that Roundup causes cancer, yet a mountain of testimony and documents was admitted during the trial. Johnson's attorneys proved through testimony from Monsanto's witnesses that company employees "ghostwrote" scientific articles and paid outside scientists to publish the articles in their name.
Internal documents revealed that a scientific advisor hired by Monsanto told the company that past testing for Roundup was insufficient because glyphosate, the active ingredient in Roundup, was tested in isolation without the other chemical ingredients that make up the Roundup formulation.
"Many of these confidential Monsanto documents were unsealed for the first time," co-lead counsel David Dickens said. "They show that Monsanto knew that its testing was insufficient and that there was a synergistic effect when glyphosate is combined with surfactants which help the glyphosate penetrate both plant and animal cell walls."
Read more here:
https://www.organicconsumers.org/blog/monsanto-roundup-trial-verdict
How Monsanto Plants Stories, Suppresses Science & Silences Dissent to Sell a Cancer-Linked Chemical
As Monsanto comes under scrutiny for allegedly hiding the dangers of its weed killer, Roundup, we talk to a reporter who says the company attempted to censor and discredit her when she published stories on their product that contradicted their business interests. Carey Gillam is a veteran investigative journalist and author of "Whitewash–The Story of a Weed Killer, Cancer and the Corruption of Science."
Watch interview here: https://www.democracynow.org/2018/8/14/how_monsanto_plants_stories_suppresses_science
Monsanto Trial: Toxicologist Explains to Jury How Monsanto Colluded With EPA
Thanks to Robert F. Kennedy, Jr. for providing a recap of the fourth and fifth day in court in the Dewayne Johnson vs. Monsanto Co. trial. Proceedings began in San Francisco Superior Court on July 9. The plaintiff, Dewayne Johnson, a 46-year-old former school groundskeeper who was diagnosed with non-Hodgkin lymphoma four years ago, claims Monsanto hid evidence that the active ingredient in its Roundup herbicide, glyphosate, caused his cancer. This is the first case to go to trial among hundreds of lawsuits alleging Roundup caused non-Hodgkin lymphoma. The trial is expected to last about a month. (Read recap of day six).
Throughout Monday afternoon and Tuesday morning, July 16 and July 17, Monsanto's attorney, Kirby Griffiths, continued his ambuscade of Plaintiff's epidemiologist/toxicologist, Dr. Christopher Portier, probing for weaknesses in Portier's assessment that glyphosate and Roundup are human carcinogens. Dr. Portier yielded nothing; the studies evaluating glyphosate's carcinogenicity were performed correctly, he said, properly examined and interpreted accurately by the International Agency for Cancer Research, which determined that "glyphosate is a probable human carcinogen." Watching Griffiths try to get a grapple hold on Dr. Portier had the aspect of a man trying to climb a greased pole. Griffiths never got his feet off the ground.
Following Griffiths' cross, my co-counsel, Brent Wisner of Baum Hedlund Law, conducted redirect of Dr. Portier and the jury heard its first mention of Jess Rowland, the U.S. Environmental Protection Agency's (EPA) corrupt Office of Pesticide Programs chief. Rowland orchestrated the exoneration of Roundup based principally on studies ginned up or ghostwritten by Monsanto and its army of biostitutes (After Dr. Portier stepped down, we heard additional videotaped testimony from Monsanto official, Dr. William Heydens, admitting that he had recommended "ghostwriting" EPA's key study then edited it himself).
Under Wisner's questioning, Dr. Portier inventoried the substantive flaws in the federal EPA's glyphosate and non-Hodgkin's lymphoma studies. He showed how the EPA, with Monsanto holding its coat, cherry-picked glyphosate-friendly studies to support its ruling in Monsanto's favor. Wisner closed his redirect with Portier denouncing the Andreotti Study (2018) as fatally flawed. That study, the backbone of Monsanto's case, concluded, with Trumponian chutzpah, that glyphosate actually protects humans against non-Hodgkin's lymphoma. Portier showed, that, raw data buried in that study, showed a statistically significant elevated risk of T-cell lymphomas, the exact type of cancer diagnosed in our Plaintiff, Dwayne Johnson.
Our principle weakness in this case is the conclusion of the EPA's Jess Rowland and his Office of Pesticide Programs that glyphosate is not a human carcinogen. The jury will never learn that in the 1980s, the EPA concluded that glyphosate was a carcinogen. Monsanto responded by engaging in a series of contacts with the EPA designed to intimidate the agency to withdraw those damaging findings.
Internal documents show that Monsanto recruited a paid scientist who reexamined the EPA's mouse data and claimed to find that one key mouse study showing carcinogenicity failed to account for an unreported tumor in an unexposed mouse in the control group. As it turns out, Monsanto's documents show that the company's mercenary pathologist agreed to "find" the elusive cancer before he actually saw any slides. Although the EPA's internal scientists refuted Monsanto's hired gun, Monsanto stacked the advisory review presentations with Monsanto agents, leading to Roundup's reclassification.
Read more here: https://www.organicconsumers.org/blog/kennedy-monsanto-trial-epa-roundup-cancer