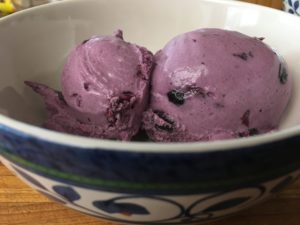 Blueberry Ice Cream
Blueberry season is coming soon and as I have a bag still in the freezer from last year, I decided to make ice cream. It was really good!
3 cups organic blueberries (mine were frozen)
3/4 cup swerve, erythritol or organic sugar
1/4 cup water
2 Tbls. Organic lemon juice
2 tbls Organic vodka
¼ tsp xanthan gum
(the vodka and xanthan gum are optional but keep the ice cream from freezing too hard)
2 cups heavy cream
In heavy 2 qt. saucepan heat blueberries, water and sugar to boiling. Stir for 5 minutes and remove from heat. Add lemon juice and vodka chill until cold (or overnight). Add cream and xanthan gum, whisk, and place in ice cream maker.
It was really easy. It's a rich and beautiful desert. Enjoy!