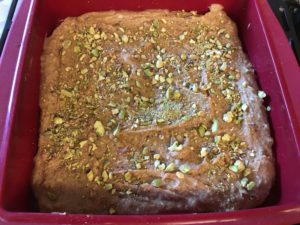 White Chocolate Coconut Almond Fat Bombs
I've been low carb/ gluten free for over six years now and I am recently trying to up my healthy fats. Fat bombs are a great way to do that and they're very satisfying as well. This is a mix of a few recipes I found and it's really good. Once they're solid and cut in pieces you can store them in the fridge or even in the freezer for when you really need a snack.
Ingredients
1/2 cup organic cocoa/cacao butter, finely chopped and melted
1 cup organic roasted almond butter
1 cup coconut butter (also called coconut manna – not oil)
1 cup organic coconut oil, firm*
1/2 cup organic full fat coconut milk
1/2 cup sweetener of choice – I use Swerve
1/4 cup organic ghee
1 tbsp organic vanilla extract
2 tsp organic chai spice (recipe below)
1/4 tsp celtic sea salt
1/4 cup organic pistachios, chopped (or any other nut for topping)
Instructions
Use a 9" silicone pan or grease and line a 9" square baking pan with parchment paper, leaving a little bit hanging on either side for easy unmolding. Set aside.
Melt the cacao butter in a small saucepan set over low heat or in the microwave, stirring. Set aside.
Chop the nuts and set aside.
Add all the ingredients, except for cocoa/cacao butter and shelled pistachios, to a large mixing bowl. Mix with a stand mixer or hand mixer, starting on low speed and progressively moving to high until all the ingredients are well combined.
Pour the melted cocoa/cacao butter right into the almond mixture and resume mixing on low speed until everything is mixed together.
Transfer to prepared pan, spread as evenly as possible and sprinkle with chopped pistachios.
Refrigerate until completely set, at least 4 hours but preferably overnight.
Cut into small squares and enjoy! Store in the fridge or freezer.
I didn't have Chai spice so I made my own, using this recipe.
Homemade Chai Spice
Ingredients
3 tsp organic ground ginger
2 tsp organic ground cinnamon
1 tsp organic ground cloves
1 tsp organic ground nutmeg
1 tsp organic ground cardamom
Instructions
Mix all ingredients together in a small bowl and store in a small jar or spice jar.