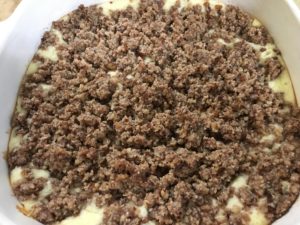 Cheesecake Crumb Bars
This is adapted from a recipe from Carolyn Ketchum. She has a great blog, All Day I dream about Food and a new cookbook coming out, link below. I've switched up the recipe a bit and it's easy to make and delicious as well.
Ingredients:
Crumb crust:
1 ¼ cups organic Almond Flour
½ pecans chopped
½ cup Non-GMO Erythritol, Swerve or Organic Sugar
1 tsp organic cinnamon
¼ tsp Celtic or Sea Salt
½ organic butter, melted
Filling:
12 oz organic Cream Cheese, Softened
¼ cup organic sour cream
2 large eggs, pastured and organic
½ cup Non-GMO Erythritol, Swerve or Organic Sugar
½ tsp organic vanilla extract (we have a great recipe on site)
Crust/Topping:
In a medium bowl, mix together almond flour, pecans, ½ cup sweetener, cinnamon and salt. Then mix in melted butter until it looks like course crumbs.
Press half of the crumbs into a 8×8 greased pan. Bake at 325° degrees F for 10 minutes. Take out of the oven (leave the oven on for the rest)
Filling:
In a food processer or mixer (I use my food processor with the S blade) process cream cheese until smooth. Add sour cream and process again. Then add eggs, process again. Finally add ½ cup sweetener of choice and vanilla extract. Process until everything is combined.
Pour filling over crumb crush and sprinkle the remaining crumb mixture over the top. Bake at 325° degrees for 35-40 minutes until filling is set and the top is lightly browned. Cool and then refrigerate until cooled completely. Enjoy!
Click the image below for Carolyn's Book: