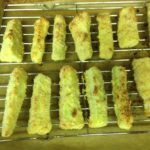 I still have almost a dozen zucchinis in the refrigerator from our garden. I've been having a hard time decidimg what to do with them, that we haven't done too many times before and decided to try oven fries. They are very good. Gluten free and low carb too!
Ingredients:
2 organic Zucchini
1 tablespoon course Sea Salt
2 Organic Pastured Eggs
½ cup Almonds Meal
½ cup Organic Grated Parmesan Cheese
½ tsp. Italian Seasoning or any herbs you'd like
Directions:
Preheat oven to 425° and line a baking sheet with parchment paper. You don't have to, but I put a cooling rack on top of the parchment paper as shown in the picture. It kept the fries lifted up and I didn't need to turn them over.
Cut zucchini into 3-inch lengths, then cut each piece into 9 fries. Place zucchini fries into a colander and sprinkle with salt. Let the zucchini pieces drain for at least 1 hour to remove excess liquid
Beat eggs in a shallow bowl. Mix almonds, Parmesan cheese, and Italian seasoning in a second shallow bowl. Rinse salt off zucchini and pat dry with paper towels.
Dip each zucchini piece into beaten egg and roll in the almond coating. Place coated fries on prepared baking sheet.
Bake in the preheated oven until the zucchini are tender and the coating is crisp and browned, about 25 minutes, turning them halfway through cooking time.
I served it with a little ranch dressing on the side. Enjoy!
Save