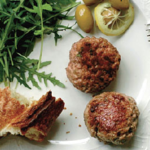 Lamb Sausage Patties
I had a pound of ground lamb that I wanted to try something different with. I found a recipe I changed around to make this. They were easy to make and delicious.
Yield: Makes 6 sausages
Ingredients:
1 pound ground lamb, preferably grassfed and pasture raised
2 large organic garlic cloves, pressed
1 1/2 teaspoons coarse Celtic or kosher salt
1/3 cup crumbled organic feta cheese
1 tablespoon finely chopped fresh organic mint
1 tablespoon organic extra-virgin olive oil
Directions:
Place lamb in large bowl. Sprinkle garlic and salt over.
Gently toss lamb with garlic, salt, feta and mint to blend.
Divide lamb into 6 equal patties.
Heat olive oil in heavy large skillet over medium heat.
Cook lamb sausages until browned on both sides and cooked to desired doneness, about 6 minutes per side for medium. Serve hot and enjoy!
Read more, great Monday Mania posts here: http://www.thehealthyhomeeconomist.com/monday-mania-12122011/
Read more, great Fat Tuesday posts here: http://realfoodforager.com/2011/12/fat-tuesday-december-13-2011/
Read more, great Real Food Wednesday posts here: http://kellythekitchenkop.com/2011/12/real-food-wednesday-12142011.html
Read more, great Simple Lives Thursday posts here: http://gnowfglins.com/2011/12/15/simple-lives-thursday-74/
Read more, great Fight Back Friday posts here: http://www.foodrenegade.com/fight-back-friday-december-16th/
Save
3 Responses to "Lamb Sausage Patties"