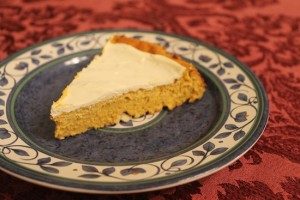 Wonderful Pumpkin Cheesecake – Gluten Free and Sugar Free
I made this for Thanksgiving and it was wonderful. My husband keeps asking when I'll make it again. (I'm waiting for the holidays). It seemed a little complicated, as they're three steps but the crust and topping are really easy to make – as is the filling. Make it the day ahead if you can and enjoy! It's Gluten free and sugar free as well, but you could substitute Rapadura for the Stevia if you'd like. It was even prettier before we cut it. Great for a special dinner.
Ingredients:
Crust:
1 ½  Tablespoons organic, pastured butter, softened
¼ ground almonds (you could also use hazelnuts or pecans)
Filling:
1 15-ounce can organic Pumpkin (just pumpkin not pie filling)
8 ounces organic Cream Cheese
Stevia equal to just over ½ cup of sugar (my brand is one tablespoon)
1 tsp. Cinnamon
½ tsp. Pumpkin Pie spice
1 tsp. Organic Vanilla (my recipe is here:
1 tsp. zest from an organic Orange
3, extra large, pastured organic eggs
Topping – mix together well:
1 cup organic Sour Cream
Stevia equal to 2 teaspoons sugar
½ tsp. organic vanilla
Directions:
Preheat oven to 350° F
Coat a 9" springform pam with the softened butter. Pour the ground almonds into the pan and shake it to distribute the crumbs over the sides and bottom. This is the 'crust'.
In a mixer, with the paddle attachment, mix together the cream cheese and stevia. Add in the pumpkin and spices, then add the vanilla and orange zest.  Add in the eggs, one at a time, mixing only enough to incorporate. Pour into the springform pan and bake for 55 minutes.
Once it's out of the oven, top immediately with the sour cream mixture.
Let cool and refrigerate for a least 4 hours – it's better if you can make it the day before you serve it and refrigerate overnight.  Enjoy!
Read more, great Monday Mania posts here: http://www.thehealthyhomeeconomist.com/monday-mania-1252011/
Read more, great Fat Tuesday posts here: http://realfoodforager.com/2011/12/fat-tuesday-december-6-2011/
Read more, great Real Food Wednesday posts here: http://kellythekitchenkop.com/2011/12/real-food-wednesday-12072011.html
Read more, great Simple Lives Thursday posts here: http://gnowfglins.com/2011/12/07/simple-lives-thursday-73/
Read more, great Fight Back Friday posts here: http://www.foodrenegade.com/fight-back-friday-december-9th/
Save
One Response to "Wonderful Pumpkin Cheesecake"