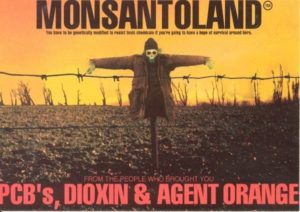 By LINN COHEN-COLE
Dear Hillary,
By polling logic, I should be your supporter — Democrat, woman, white, liberal. But this past summer I saw a News Hour show on farmers committing suicide in Maharastra, India, which affected me deeply. I started learning what was happening to farmers and to food and how the Clintons are connected.
The News Hour piece said Monsanto, a US agricultural corporation, hired Bollywood actors to sell illiterate farmers Bt (genetically engineered) cotton seeds, promising they'd get rich from big yields. The expensive seeds needed expensive fertilizer and pesticides (Monsanto's) and irrigation. There is no irrigation there. Crops failed. Farmers had immense debt and couldn't collect seeds to try again because Monsanto seeds are "patented" as "intellectual property").
"Genetic Engineering is often justified as a human technology, one that feeds more people with better food. Nothing could be further from the truth. With very few exceptions, the whole point of genetic engineering is to increase sales of chemicals and bio-engineered products to dependent farmers."
David Ehrenfield: Professor of Biology, Rutgers University.
Monsanto has a $10 million budget and 75 person staff to prosecute farmers.
Since the late 1990s (as industrial agriculture took hold in India),166,000 Indian farmers have committed suicide and 8 million have left the land (P. Sainath, The Hindu). Farmers in Europe, Asia, Africa, Indonesia, South America, Central America and here, have all protested Monsanto and genetic engineering.
What does this have to do with you?
Your Orwellian-named "Rural Americans for Hillary" were Monsanto's lobbyists. My greater concern, though, is you former-employer, Rose Law Firm, representing Monsanto, world's largest GE (GE – genetic engineering) corporation; Tyson, world's largest meat producer; Walmart, the world's largest retailer. Rose is home to Industrial FOOD.
Rose's cozy connections: Jon Jacoby, senior at the Stephens Group – one of the largest shareholders of Tyson, Walmart, DP&L – is C.O.B. of DP&L, arranged the Wal-Mart deal. Jackson Stephens' Stephens Group staked Walton, financed Tyson. Monsanto bought DP&L. Walmart's board invited you on, Tyson executive helped you do $100,000 trade just before Bill' governorship, Jackson Stephens backed Bill for Governor, then President (donating $100,000).
Monsanto made Agent Orange, PCBs, nuclear weapons components, pesticides, and with that diverse background in death, are now "doing" food.
Bill in office:
USDA immediately significantly weakened chicken waste/contamination standards, easing Tyson's poultry-factory expansion.
1. Monsanto people were put in charge of food, …
2. FDA okayed Monsanto's rBGH (bovine growth hormone), first GE-product ever approved.
3. Despite bovine illness/death, FDA didn't recall or warn.
4. When dairymen labeled milk "rBGH-free," USDA threatened confiscation.
5. Organic food was the last way around unknown danger. FDA tried to close that escape with new "organic" standards, to include: genetic engineering of plants/animals, food irradiation , sewage sludge fertilizer.
USDA backed down from public response 20 times greater than to anything before American food:
Oils: Indian sheep died eating from Bt cotton fields. Our children eat Bt cottonseed oil in peanut butter, cookies.
Grains: 49 per cent of corn acreage planted in Bt corn in 2007. A French study indicates it causes kidney and liver toxicity. . Monsanto controls US's two main crops, soy (90% GMO, 90% of traits "belong" to Monsanto) and corn, the largest crop (60% GMO, nearly 100% Monsanto "owned" traits).
Meat: Steroids bulk athletes, Monsanto steroids fatten animals, our fattening children eat steroid-laced meats. FDA allowed "known TSE-positive (Transmissible spongiform encephalopathy Mad Cow Disease) material to be used in pet food, pig, chicken and fish feed." Monsanto's GE-hormone increases risk sick cows are entering US food chain
Poultry: USDA weakened waste/contamination standards. Waste from transnational poultry industry is now implicated as the source of bird flu. The poultry industry is using the crisis to push out small farmers.
Milk: Scientific studies indicate Monsanto's rBGH increases risks of breast cancer by up to seven-fold, increases colon, prostate cancers risks. Canada, 29 European nations, Norway, Switzerland, Japan, New Zealand, Australia, South Africa ban U.S. rBGH dairy products. Bill's USFDA put no restrictions, warning labels, or any labels.
Control out of control.
Monsanto's Terminator genes make plants sterile after one season, posing apocalyptic risk of breaking out into nature. GE breakouts have contaminated maize and weeds, already.
Monsanto, meat-packers, and the USDA are pushing NAIS (National Animal Identification System), a corporate database tracking small farmers' livestock.
Monsanto pushing state laws taking control from farmers, communities, over GE planting.
Cattle living in filth, 12,000-year-old seed loss, poultry industry implicated in bird flu, Mad Cow disease, bee colony collapse, poisoned soil, depleted water, Superweed), lawsuits against farmers, loss of family farms throughout the world, … farmers committing suicide. Industrial agriculture.
Bees and farmers, dead canaries in that mine.
Your proposed "Department of Food Safety" centralizes control over food into whose hands? Tough talk on labeling "foreign" food but Bill degraded US food and prevented minimally sane labeling. You never objected.
Monsanto uses child labor in India.
You take Monsanto donations. Blacks, our poorest group, have to eat Monsanto's steroid/hormone/antibiotic-filled GE food. You take Monsanto donations.
Who are you protecting? National Black Farmers Association, boycotting Monsanto? Babies drinking rBGH milk? Women fearing breast cancer? Despairing farmers? Suffering animals? Children fed kidney-and-liver-toxic Bt-corn?
Or Monsanto?
I am a person before I am a woman. Your gender is irrelevant. Given deadly threats to my grandchildren's future by your corporate connections (Edwards was right), I don't believe your talk of "caring" about Blacks/women/children/health/farmers/food.
I will vote for someone committed to small farmers – our ONLY real food safety. Your friends, though, are the heart of an international industrial agricultural nightmare.
Linn Cohen-Cole
Atlanta
Disclaimer. I am not a scientist. I have read for months on this subject, and am including only a tiny portion of the horrifying things I have learned. I am expressing my opinion as person and may be wrong. Perhaps things are swell out there and rBGH is fabulous and TSE-laced feed is great, and genetic engineering is the best thing since manna. But I am scared for my family and I have not only a right to say so but an obligation to do so. I am angry that Monsanto was allowed the influence it had and has done the things it definitely seems to have. I am disgusted by industrialization of every tender and beautiful part of our world and hope, for all our children's sake, we are not too late to pull back.
Read more great, Fight Back Friday posts here: http://www.foodrenegade.com/fight-back-fridays-june-19th
Save