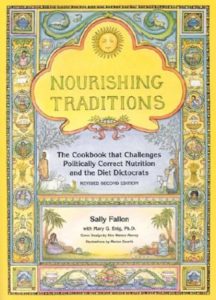 I have been studying nutrition and eating healthfully since high school. I remember 30 years ago telling my mother that we should be using butter and not margarine. She didn't believe me. 🙂
I have been a vegetarian, a vegan, and macrobiotic at different times in my life, trying to find a diet that really worked for me. When my kids were born our diet changed to home cooked meats (mostly fish & chicken), vegetables and grain, mostly healthy with occasional processed food. We were doing okay until I started having some serious health challenges, stemming from the California fires of 2003. I started having serious lung problems that got even worse from a subsequent smoke inhalation. I tried everything from the steroids prescribed by my doctor to homeopathy – I'm trained as a homeopath and did experience some relief from remedies but not enough – and also tried acupuncture, herbs, etc. I was still not doing well. At the same time my husband was experiencing a recurrence of sinus problems that he hadn't had in years.
We were searching for something that would help us regain our health. I was browsing cookbooks on Amazon.com and found Nourishing Traditions.  It looked really interesting and after reading the reviews, I bought it. We both read it through and it made good sense, we decided to tweak our eating habits. We started making broths from scratch, started making real kefir (from real, raw, whole milk) and kombucha, and we stopped using vegetable oils (esp Canola as it's made from genetically modified seed) and switched to olive oil, butter and coconut oil.
Within a few months of making those changes both of us experienced a noticeable improvement in our health and day-to-day energy.  I was able to slowly wean off of my inhalers and my husband's sinuses improved. Our energy greatly improved – and we are both in/near our 50's.
It's over 600 pages of research, food information and recipes. The book is laid out with the basic nutritional information – and it's NOT what we've been told before – in the front. Then comes all the recipes with sidebars through out detailing information and research to go along with them. And the recipes are terrific too, for everything from home made stocks, to fish, meat, vegetables, grains, desserts and beverages. There's a lot of wonderful information on fermented foods and tonics. We now make kefir and kombucha but there are more I'd like to try.  I can't recommend this book enough, it's truly a life changer.
Save
Buy it at Amazon – click the book pic  (affiliate link – we make a few cents that helps keep our site running)