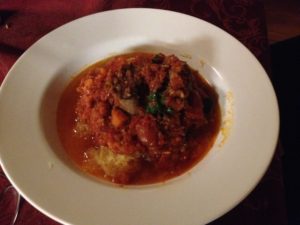 Slow Cooker Osso Buco
I had some grass fed beef shanks in the freezer that I wasn't sure what to do with, when I found a slow cooker Osso Buco recipe on the Cuisinart site. Perfect! I adapted it to beef, organic and instead of using canned tomatos used some of my San Marzano's that I had frozen this summer. Just chopped them and added in.
It was delicious and we had enough for a few dinners. First we served it over baked Spaghetti Squash and when we ran out of squash ate it with fresh salad and sauerkraut. It takes a little prep work as you start but the flavors are worth it. So easy to make in the slow cooker! And would be wonderful for company too.
This recipe was for my six quart cooker. Enjoy!
Ingredients:
Grass Fed Beef Shanks, about 4 pounds total
1 tsp. Celtic Sea Salt
¾ tsp. organic black pepper, freshly ground
2 tsps. organic olive oil
6 organic garlic cloved, peeled
1 large organic onion, chopped
2 medium organic carrots, chopped
1 organic celery stalk , chopped
1 tsp. pastured organic butter
2 fresh rosemary springs (or 1 tsp dried rosemary)
1 sprig fresh thyme (or ½ tsp dried thyme)
1/3 cup dry white wine or vermouth
Either: Six cups fresh or frozen organic Roma type tomatoes, roughly chopped (I used this!)
Or: 2 – 28 ounce cans of organic plum tomato's drained and roughly chopped. (if you don't have fresh/frozen)
1 tablespoon organic tomato paste
1 organic bay leaf
¼ cup organic chopped, fresh Italian parsley
Directions:
Season the shanks on all sides with ¾ tsp of the salt and all of the pepper.
Put the oil into a sauté pan on medium/high heat, add the shanks and brown on both sides, at least 6 to 10 minutes per side, until deeply browned. Once they're done, place them on a plate.
While meat is browning, put the garlic into the work bowl of a food
processor fitted with the chopping blade; process to finely chop. Scrape down
and add the onion, carrot, and celery. Pulse 8 to 10 times, until
vegetables are roughly chopped. Remove vegetables and reserve. Add the
drained tomatoes to the food processor and pulse 5 times to chop. Set aside. (If you don't have a food processor just chop everything a bit more fine to start)
Lower the heat to medium and add butter to the pan, add
vegetables, garlic, rosemary and thyme and remaining 1/4 teaspoon of salt.
Cook until vegetables are softened and slightly browned, about 5 minutes.
Add the wine and scrape up any brown bits from the bottom of the pot.
Simmer until wine is completely reduced, about five minutes.
Put the sautéed veggies in your slow cooker, stir n tomatoes, tomato paste and bay leaf. Nestle shanks in the liquid. Switch unit to Slow Cook on Low for 8 hours. Stir in parsley just before serving.
You can serve this on baked spaghetti squash, zoodles, any type of pasta you want. Also, sprinkle with organic crushed red pepper and organic parmesan cheese if desired.
Delicious and my husband said it was the best Osso Buco he ever had.
Save