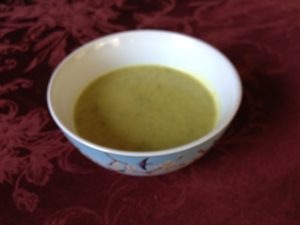 Curried Zucchini Soup
My garden has been growing more zucchini then we can eat, and almost more then we can give away. LOL
I found this soup recipe and have made it twice already. My husband said he would be happy to eat it all summer.
It's quick and easy and you can eat it either hot or cold.
Ingredients:
1 tablespoon olive oil (or half oil half pastured butter)
1 cup organic yellow onion, chopped
1 teaspoon organic garlic, minced or chopped
½ teaspoon Celtic sea salt
2 teaspoons organic curry powder
1 jalapeno pepper, seeded and sliced
2-3 pounds of organic zucchini, ends trimmed off and chopped
3 ½ cups organic stock (I use beef bone broth – you can use chicken, beef, veggie)
½ cup organic heavy cream (substitute coconut milk or cream for dairy free)
Directions:
In a soup pot, heat the oil/butter over medium high heat. Add the garlic and onions and cook, stirring until soft for about 3 minutes.
Add the curry powder, salt and cayenne and stir for about a minute.
Add the chopped zucchini; reduce the heat to medium and cook for 5-6 minutes, stirring occasionally. Add the stock and bring to a boil, then reduce the heat to low and simmer until the zucchini is tender, about 20 minutes.
Then blend the soup. The easiest way to do this is with an immersion (aka stick) blender. They are not expensive and are the best for soups, and making mayo and whipped cream. Either remove from heat and use your immersion blender until blended or put the soup into a blender and blend.
Then return to heat and add the cream, stir and simmer for another 2-3 minutes and either serve (we love it hot) or refrigerate until chilled. Enjoy!
Save
Save