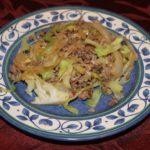 Ground Beef Asian Slaw
I've made this a number of times as my husband told me it's his favorite ground beef recipe. We serve it with a mango habanero hot sauce and it's really good. It's a quick recipe as well and you can use any veggies, and brown rice is good on the side too, if you eat it. Not the prettiest dish, but really delicious.
Ingredients:
1 lb. grass fed ground beef
1 tlb. toasted sesame oil
1 tlb. garlic flavored or plain olive oil
2 cloves organic garlic, minced
3 cups sliced organic cabbage
1 cup finely sliced organic onion
1 Tlb. organic gluten free soy sauce
Crushed red pepper flakes or hot sauce of your choice, to taste
Directions:
In a medium skillet or wok, brown the ground beef over medium heat until no longer pink. Remove the beef from the skillet, drain and set aside.
Heat olive oil in the skillet over med-high heat. Add garlic; stir-fry for 2 min. Add the onions andnd cabbage; stir-fry for until lightly cooked.
Return the cooked ground beef to skillet with vegetable mixture and pour on soy sauce and toasted sesame oil. Stir until ingredients are well combined and heated through, about 2 minutes.  Enjoy!
Read more great Fat Tuesday posts here: http://realfoodforager.com/fat-tuesday-march-19-2013/
Save