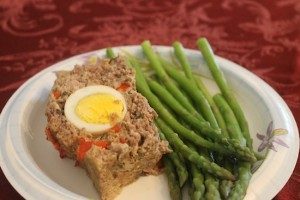 Grassfed Meatloaf
I don't normally like meatloaf, but this recipe changed my mind.  I've made it a few times already and everyone loves it. Makes great leftovers too.
1 lb organic grassfed ground beef
1 lb organic pastured ground pork
2 large organic pastured eggs
½ c grated parmesan cheese
¼ c diced organic red onion
¼ c diced organic red bell pepper
2 Tbs. organic parsley (I like Italian parsley)
2 cloves organic garlic, minced
½ tsp. fresh or dried oregano
½  tsp. fresh or dried basil
1 tsp. Celtic sea salt
½  tsp. organic pepper
4 organic hard boiled eggs, peeled
Preheat oven to 350.
Mix meat, raw eggs, Parmesan cheese, vegetables and seasoning in a bowl.
Place 1/2 the meat mixture in a 9-by-5 loaf pan. Place hard boiled eggs, in a row, on top of mixture in pan.
Place rest of meat mixture on top of hard-boiled eggs and press lightly to seal and cover eggs.
Bake 1 hour 15 minutes or until temperature reads 165. Drain fat off and let rest 10 minutes.
Cut into 6 or 8 equal slices.   Enjoy!
The original recipe is from "Eating Stella Style" By George Stella
Read more, great Monday Mania posts here: http://www.thehealthyhomeeconomist.com/monday-mania-7162012/
Read more, great Fat Tuesday posts here: http://realfoodforager.com/fat-tuesday-july-17-2012/
Read more, great Real Food Wednesday posts here: http://kellythekitchenkop.com/2012/07/real-food-wednesday-7112012.html
Read more, great Pennywise Platter Thursday posts here: http://www.thenourishinggourmet.com/2012/07/pennywise-platter-thursday-719.html
Read more, great Simple Lives Thursday posts here: http://gnowfglins.com/2012/07/19/simple-lives-thursday-105/
Read more, great Fight Back Friday posts here: http://www.foodrenegade.com/fight-back-friday-july-20th/
Save