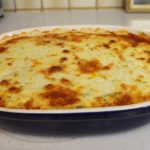 No Noodle Lasagna
This recipe comes from George Stellas Livin' Low Carb, which is a great cookbook. Every recipe I've tried has been terrific.  I changed it up a little bit, adding basil to the ricotta filling and if I have zucchini on hand, I slice it very thinly and put a layer between the meat and the cheese.  This will totally satisfy your pizza/lasagna craving!
13X9 in pan
Ingredients:
2 Tlbs. olive oil
2 cups diced organic celery
½  cup diced organic red onion
2 lbs. organic, grassfed ground beef
15 oz. organic tomato sauce
1 tsp. minced fresh organic garlic
1 tsp.  organic garlic powder
½  tsp. Celtic sea salt
½  tsp. organic black pepper
Cheese filling:
15 oz. organic ricotta cheese
16 oz. organic mozzarella cheese, shredded
½ cup grated organic Parmesan cheese
1 large pastured egg
1 tsp. minced fresh organic garlic
2 tsp. dried Italian seasoning (I use Emeril's brand)
1 tsp. organic garlic powder
¼  tsp. black pepper
Directions:
Preheat oven to 350 degrees.
Heat oil in a large skillet over medium-high heat. Add celery and onion and cook until slightly tender.
Add ground beef and cook until browned. Drain excess fat.
Add tomato sauce, garlic, garlic powder, salt, and pepper and simmer for 2 more minutes, stirring constantly. Remove from the heat.
Mix the ingredients for the cheese filling together in a bowl using half the mozzarella.
Fill the bottom of the baking dish with the meat filling and top with the cheese filling.
Cover the top with the remaining 8 oz of mozzarella.
Bake for 45 to 50 minutes, until the top starts to become golden and bubbly.
Let cool for 10 minutes before slicing.  Makes 8 servings.  Enjoy!
Read more, great Monday Mania posts here: http://www.thehealthyhomeeconomist.com/monday-mania-722012/
Read more, great Fat Tuesday posts here: http://realfoodforager.com/fat-tuesday-july-3-2012/
Read more, great Real Food Wednesday posts here: http://kellythekitchenkop.com/2012/07/real-food-wednesday-6272012.html
Save
One Response to "No Noodle Lasagna"