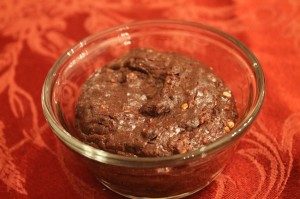 Gluten Free Low Carb Chocolate Lava Cake
I found this recipe on a low carb site and switched it up to use almond flour and liquid stevia. It's SO good and is very satisfying for both a chocolate and sweet craving. I served it with just a little bit of whipped raw cream (also stevia sweetened) Yum!
Ingredients:
4 oz. unsweetened baking chocolate
1/2 Cup butter, I use Kerry Gold
1 and 1/4 Cup sweetener (I used stevia equivalent, you could use organic sugar or swerve or erythritol)
4 organic pastured eggs
½  tsp. Vanilla Extract
One pinch Celtic Sea Salt (1/8 tsp)
6 Tbsp.  Almond Flour (ground almonds)
Whipped Cream to top
Preheat oven to 425. Butter 4 custard cups (3/4 cup) and place on baking sheet
In large microwavable bowl, cook butter and chocolate squares on high 1 minute or until butter is completely melted. Remove from microwave and stir with wire whisk until chocolate is completely melted. (You can alternately melt butter and chocolate in a double boiler.) Stir in sweetener until well blended. Whisk in eggs until well blended. Stir in Almond Flour until well blended. Divide batter evenly between custard cups.
Bake 11-14 minutes, or until sides are firm, but center is soft. Let stand 1 minute. Carefully run knife around cakes to loosen and then turn out onto plate. Top with whipped cream.
These were incredibly easy to make and delicious. Enjoy!
Read more great Monday Mania posts here: http://www.thehealthyhomeeconomist.com/monday-mania-3122012/
Read more great Fat Tuesday posts here: http://realfoodforager.com/fat-tuesday-march-13-2012/
Read more great Real Food Wednesday posts here: http://kellythekitchenkop.com/2012/03/real-food-wednesday-372012.html
Save
Save
5 Responses to "Chocolate Lava Cake – Low Carb and Gluten Free"