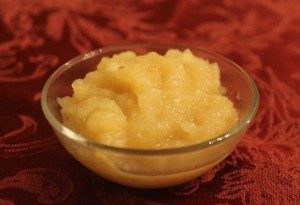 We've gotten a lot of wonderful apples in our CSA (Community Supported Agriculture) box the past month or so and no one was eating them.  I've never made applesauce before and was surprised at how easy it was – and how delicious!
INGREDIENTS
3 to 4 lbs of peeled, cored, and quartered organic apples. (Cooking apples are best – we had a great selection of Granny Smith, Fuji, and Macintosh)
4 strips of organic lemon peel – use a vegetable peeler to strip 4 lengths
Juice of one organic lemon, about 3-4 Tbsp
3 inches of cinnamon stick
¼  cup Rapadura, Organic Cane Sugar or Stevia = to ¼ cup
1 cup of water
½  teaspoon of Celtic or sea salt
Directions
1 Put all ingredients into a large enamel or stainless steel pot. Cover. Bring to boil. Lower heat and simmer for 20-30 minutes.
2 Remove from heat. Remove cinnamon sticks and lemon peels. Mash with potato masher.
That's it! You can serve it either hot or cold.  Enjoy!
Read more, great Monday Mania posts here: http://www.thehealthyhomeeconomist.com/monday-mania-122012/
Read more, great Fat Tuesday posts here: http://realfoodforager.com/fat-tuesday-january-3-2012/
Read more, great Real Food Wednesday posts here: http://kellythekitchenkop.com/2012/01/real-food-wednesday-12282011-2.html
Read more, great Simple Lives Thursday posts here: http://gnowfglins.com/2012/01/05/simple-lives-thursday-77/
Save
One Response to "Homemade Applesauce"