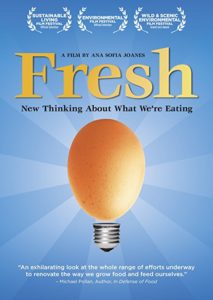 Fresh and Food, Inc Movie Review Coordinator
In the past week, we've seen both of these documentaries. They are both about our food supply, industrial farming, and safe food.  One is Fresh and the other Food, inc.  Fresh we bought on DVD and Food, inc is playing at our local movie theatre. I took the kids. Links are below.
There are a lot of similarities in the movies so I'm reviewing them together.  They are about how monocultures (growing just one crop) is environmentally dangerous and how industrialized food has lead to unhealthy, over-processed food and abused and neglected animals. My cousin, who lives near a cow CAFO, (Concentrated animal feeding operation) calls it, Cowchwitz, which unfortunately it is for the poor cows who live there.
Both movies have soy and corn farmers who don't use GMO's (Monsanto's genetically engineered seed).  These conventional farmers are a vast minority these days and Monsanto is suing them anytime their field get contaminated by Monsanto's products. Monsanto is also suing the seed cleaners and putting them out of business so even the people who want to grow and save their own non-GMO seed have no one to clean it anymore.  It's unconscionable.
Fresh had Michael Pollan (who's also in Food, inc) discussing how CAFO's are creating manure lagoons that are toxic waste fields of animal manure, filled with antibiotics, pharmaceuticals, and hormones that leaches into the water supply. These toxic conditions are causing not only local pollution,  but has lead to outbreaks of e-coli in spinach, peanut butter and other foods.
Both movies also feature segments with Joel Salatin of Polyface Farms, one of my personal heroes, because he is farming in a safe, ecological and sustainable way.  In Fresh, he discussed how Mad Cow disease has come about from the  CAFO practice, of feeding cows other dead and diseased animals.  Cow are herbivores, and only supposed to eat grass, not corn, and certainly not dead animals.
Faster, bigger, cheaper is the motto of industrial agriculture. The cheap corn and soy that are fed to animals in this country are subsided by our tax dollars. I think those dollars would be better spent subsidizing cheap fruit, vegetables and organic and sustainable food.  Andrew Kimbrell of the Center for Food Safety, said it's now been scientifically proven that a mid-sized organic farm can produce more and safer food then their agribusiness counterpart.  He also said these agribusiness farms have cost us 90% of our crop and animal diversity and lost more then 14% of our topsoil, through the use of non-sustainable methods.
The amazing thing is that 70% of the row crops that are grown in the U.S. are not for human consumption but for the animals that can't digest them.
I liked both movies but have to say that I did like Fresh better.  The topics are similar but Fresh held more of a positive message about what we can do to stop this; eat local, eat organic, shop at your local farmer's market.  Food, inc, while also having the same message, had a number of very disturbing scenes of confined animals being mistreated and slaughtered.  Fresh had a few confinement scenes also but it was balanced with many scenes of what real farming and husbandry should be.
On the other hand, my 17 year old son said he liked Food, inc. better, because it clearly said this is not an acceptable way to treat animals as well as the humans that had to work with them. Food, inc. did provide more detail of how terribly the workers are treated in industrial food production.  They are both good, and highly recommended movies.
The overall message, and the message of us here at MomsforSafeFood.org is the same:  Eat Local, Eat Organic, Eat safe, fresh food for you, and your family. As more of us do this, the system will have to change.
You can read more great posts about real food, on Fight Back Friday here,
http://www.foodrenegade.com/fight-back-fridays-june-26th
Links to buy: