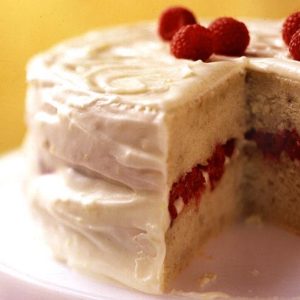 Banana-Berry Cake with Lemon Frosting
This is one of our favorite cakes. My husband's Birthday was last week and this was his requested cake. What makes it extra special around here, is that we make it with the Blackberries that grow on our back hill. Every summer we make a few of these and this year we have (almost) more berries then we know what to do with. 
Mashed ripe banana adds moistness. The frosting, with cream cheese as its base, is similar to that of a traditional carrot cake. We use all organic and non-gmo ingredients.
Cake:
Butter for the pan
1 tablespoon unbleached flour
1 1/3 cups organic sugar
1/4 cup butter, softened
3 large eggs
1 3/4 cups unbleached flour
2 teaspoons baking powder
1/2 teaspoon salt
1 cup low-fat buttermilk  (we usually use kefir or half kefir and half real, raw milk)
1 cup mashed ripe banana (about 2 bananas)
1 teaspoon vanilla extract
Frosting:
3/4 cup (6 ounces) Organic cream cheese, chilled
2 tablespoons butter, softened
2 teaspoons grated lemon rind
1/2 teaspoon vanilla extract
Dash of salt
2 1/2 cups organic powdered sugar, sifted
1 1/2 cups fresh raspberries, blackberries, blueberries or strawberries. (whatever looks good)
Preheat oven to 350°.
To prepare the cake, coat 2 (9-inch) round cake pans with butter; line bottoms with wax paper. Coat wax paper with butter; dust each pan with 1 1/2 teaspoons flour.
Place granulated sugar and 1/4 cup butter in a large bowl; beat with a mixer at medium speed until well blended (about 3 minutes). Add eggs, 1 at a time, beating well after each addition.
Lightly spoon 1 3/4 cups flour into dry measuring cups, and level with a knife. Combine flour, baking powder, and 1/2 teaspoon salt, stirring well with a whisk.
Combine buttermilk, banana, and 1 teaspoon vanilla. Add the flour mixture and buttermilk mixture alternately to the sugar mixture, beginning and ending with flour mixture (mix after each addition just until blended). Pour batter into prepared pans.
Bake cake at 350° for 25 minutes or until wooden pick inserted in center comes out clean. Cool in pans 10 minutes on a wire rack; remove from pans. Peel off wax paper. Cool layers completely on wire rack.
To prepare frosting, combine cream cheese, 2 tablespoons butter, rind, 1/2 teaspoon vanilla, and dash of salt in a large bowl. Beat with a mixer at high speed until fluffy. Gradually add powdered sugar; beat at low speed just until blended (do not overbeat).
Place 1 cake layer on a plate, and spread with 1/3 cup frosting. Arrange raspberries in a single layer over frosting, and top with remaining cake layer. Spread remaining frosting over top and sides of cake. Store cake loosely covered in refrigerator. Garnish with fresh raspberries, if desired.
Read more great real food Wednesday blogs here,  http://kellythekitchenkop.com/2009/06/real-food-wednesday-june-24th-2009.html
Save