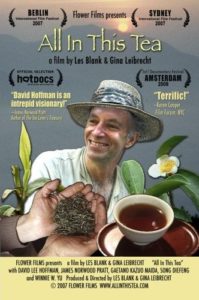 We saw a terrific movie this weekend. It's about tea, the power of one person to help make real change and worms.
All in This Tea is about tea importer, David Lee Hoffman. He spent a decade during his twenties traveling around Asia and developed a love of good tea. The documentary follows his travels in China as he tries to encourage the farmers to give up their recent addition of chemical farming and go back to the traditional and organic methods of growing tea. Those methods were lost once the Cultural Revolution arrived, as the farmers started growing for quantity over quality.  As is happening on our farms here — after the initial boost in crops you get from chemical fertilizers, crop production lessens, and soil quality depletes.
As he tries to describe more natural fertilizers to the Chinese officials, David discusses earthworms, and worm castings (droppings), which are one the most wonderful fertilizers available today. We use them in our garden and whenever we put fresh castings on, everything has a wonderful growth spurt. I was happy to see worms and organic methods discussed as we are trying to encourage our farmers here in the U.S. to move away from chemical fertilizer too.
As he winds his way through China's tea bureaucracy, he found that the companies don't want to deal directly with the farmers, including those craftsmen who produce the finest teas.  Mr. Hoffman decides to travel through the country finding exactly the teas he prefers, buying them directly from the farmers and then he had to deal with the red tape of getting them shipped to the U.S. There's also small segments with different people teaching classes about tea and it's history, that's very interesting.
David succeeded on his mission of encouraging more organic tea farming, and buying directly from farmers. It was inspiring to see how much change could be brought; by one determined man.
This is a wonderful, almost meditative movie. Watching the beautiful countryside where tea is grown, seeing how the different teas are made and tasted. I think the movie should come with tea!  We couldn't wait to make a special cup of green tea right after we watched.
To read other great blogs about saying No to GMO's click here, http://realfoodmedia.com/no-gmo-challenge/2009/05/25/no-gmo-challenge-blog-carnival-may-25-2009/
Save